WHITECOURT, AB – Finding the right balance between work and play has always been a complicated formula for business owners. Just ask the newly crowned Northern Provincial Pipelines Late Model Series Champion. "There were a few races this year that we almost weren't able to attend because we were so busy at work."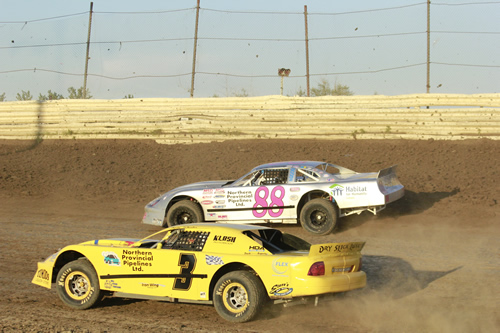 Kevin Wheeler owns KW Mechanical in Whitecourt, Alberta. "We had several late nights at work this year just so we could get to the track." Wheeler won five Feature events in 2013, the most wins by one driver since the 2007 NPP Series season. His performance and success at the track this season mirrored what's also been taking place at KW Mechanical. "Business has been growing by leaps and bounds," admits Wheeler, "we are up to six office staff and we've now hired two more technicians [total of 8] to keep up with demand." Before the 2013 race season even began, Wheeler went to victory lane. The 41-year old received the prestigious North American Truck Service Expect of the Year award at the annual HDA Truck Pride convention in Florida. KW Mechanical is one of over 700 North American businesses that fly the HDA Truck Pride banner.
On Thursday, Kevin Wheeler and his staff held a customer appreciation BBQ. "You've got to do the work thing before you can play. Today is a bit of both." KW Mechanical served up more than 225 burgers and 100 hotdogs to customers and many race fans. "2013 was definitely our year. We've had an outstanding year both business wise and on the track. This is a great way to say thanks to our supporters. A lot of people came through here today." Wheeler had his Championship race car on display inside the shop. Kevin's brother Wayne, who won 2013 NPP Series Rookie of the Year honors also had his race car on display for the big BBQ.