BEST OF TIMES AND...........
TUCSON, AZ (December 1) – Team NPP wrapped up its 2019 race season at Tucson Speedway on Sunday afternoon.  The Arizona race track was holding its annual Turkey Shoot 125 event for Super Late Model teams.  Darrell Midgley had one of the most frustrating race weekends in recent memory.  Brandon Carlson registered his best ever finish in the Arizona desert.  Midgley was taken out on the very first lap of the race and was credited with a 17th place finish.  Carlson drove the Northern Provincial Pipelines Ltd #81c Dodge to a 6th place finish.  "Just one spot short of our goal of a top-5," exclaims Carlson, "happy with the result but not exactly happy with how the car handled."  The car was a handful on the track all weekend including the Saturday afternoon 50 lap warm-up race where Carlson finished 9th.  The reason for the handling problem revealed itself in spectacular fashion Sunday.  "At the end of the race, my crew chief (brother) Spencer was checking tire temperatures and the left front shock just blew completely apart."  Despite his ill handling race car, Carlson still managed to steer clear of a late race crash.  "The leaders decided to crash.  There was a pile of cars wadded up going into turn three."  Carlson 6th place finish on Sunday was his fifth top-10 finish in ten appearances at Tucson Speedway.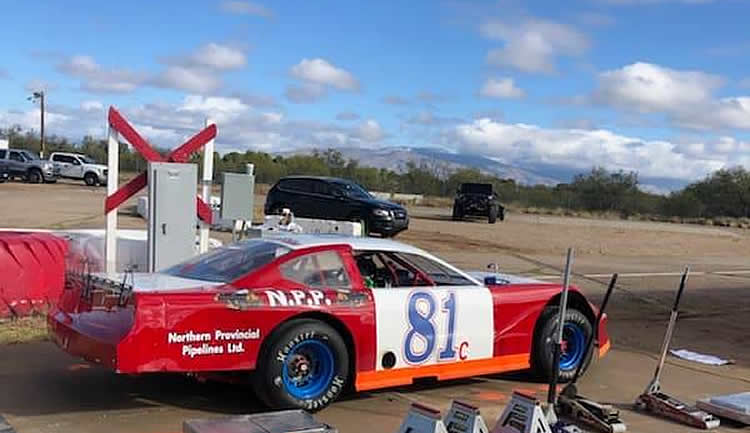 Veteran racer Darrell Midgley has had disappointing weekends in the past but the Turkey Shoot 125 weekend just might be near the top.  "That was not much fun I tell you. We had a really good car Saturday (qualified third)."  In the 50 lap-warm up race the Sidney, British Columbia driver was running 5th when lap times began to slow.  The engine expired on lap 24.  "We don't have motor problems.  We just don't!  It was a new motor that had a major part failure."  The plan to install a new engine into the primary car was scrapped.  Midgley and team decided to bring out the Team NPP back-up car.  "We had only ten laps of practice (in the back-up car) Sunday morning.  Did some decent laps and figured we were going to have a good race car."  Midgley's appearance in the 2019 Turkey Shoot 125 was over on the first lap.  "I didn't even make it back to the start/finish line.  We were coming out of four and I got run over."  Midgley was tagged from behind by Greely, Colorado's Bruce Yakey.  The contact turned Midgley's NPP #81 Dodge into the front straight wall.  "He came over and apologized (after the race)," indicates Midgley, "he's a decent guy.  Mistakes happen.  He and his son (Brett) are real good people."  Ironically it was Bruce Yakee that was the eventual winner of the 2019 Turkey Shoot 125.  His son Brett won it last year.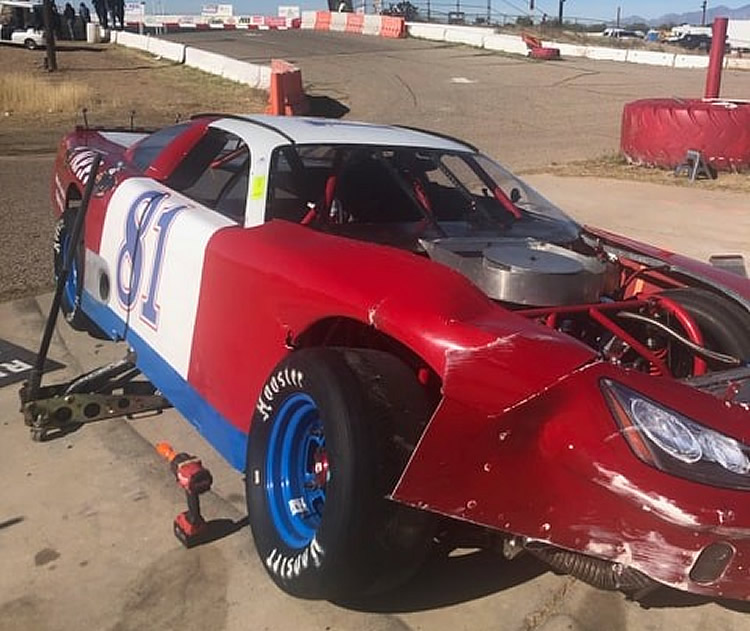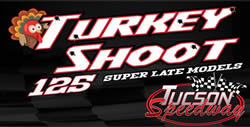 NOTE: The Turkey Shoot 125 was originally scheduled to run Friday and Saturday.  Inclement weather and flash flood warnings late Thursday into Friday postponed racing to Saturday and Sunday.
2019 TURKEY SHOOT 125
> Sunday, December 1st
1. #12 Bruce Yackey – Greeley, Colorado
2. #25 Brandon Farrington – Tucson, Arizona
3. #12 Kody Vanderwal – LaSalle, Colorado
4. #16 Dustin Jones – Vail, Arizona
5. #26 Dylan Jones – Vail, Arizona
6. #81c Brandon Carlson – Victoria, British Columbia
7. #99 John Lashley – Tucson, Arizona
8. #32 Brett Yackey – Greeley, Colorado
9. #51 Sean Brey – Tucson, Arizona
10.#34 Kayli Barker – Las Vegas, Nevada
11.# 4 Brandon Schilling – Tucson, Arizona
12.#93 Austin Thom – Dundee, Oregon
13.#22 Paul Banghart – Tucson, Arizona
14.#34 Rudy Vanderwal – LaSalle, Colorado
15.#24 Keith Lopez – Tucson, Arizona
16. #48 Jake Perkins – Arizona
17. #81 Darrell Midgley - Sidney, British Columbia