EDMONTON, AB – Veteran oval racer Darrell Midgley has put together an amazing winning streak that has never been accomplished before in the 15 year history of the Northern Provincial Pipelines Late Model Series. The Sidney, British Columbia driver led all laps in the Friday and Saturday night Features at Castrol Raceway to win his sixth consecutive NPP Series Feature event. "We were probably the best car here tonight and got the best results," says the driver of the Integra Tire (Edson) #14 Dodge, "things are just going our way right now." His six race winning streak began at the final race weekend of the 2014 season in Rimbey, Alberta.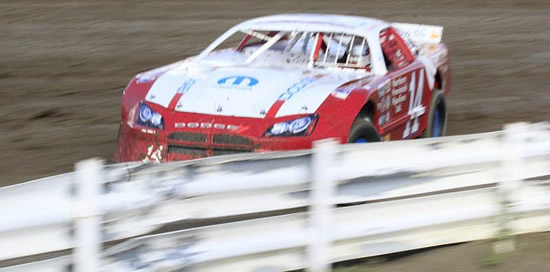 Midgley, who had never won at Central Alberta Raceways, claimed both Features in Edmonton. "We'll just keep doing what we can and see how far we can go with this." Despite his strong performance, the 2009 NPP Series Champion was challenged hard and often for the race lead Friday and Saturday night by the defending NPP Series Champion. "Mark [Miller] was nipping at our heels both nights. He's a great driver in this Series. He won the championship last year so he knows how to get to the top." Mark Miller has now finished second to Midgley in three consecutive Feature events this season. Miller is only the second driver in NPP Series history to accomplish the second place 'triple-play." Valemount, British Columbia's Larry Simpson was the first to finish second in three consecutive NPP Features back in 2003. The string of podium finishes has leapfrogged the Calgary, Alberta driver from seventh to second in the NPP Series points chase. The driver of the A1 Autobody #69 Chevrolet sits just 62 points behind Midgley. "Darrell's definitely got the quicker car this year," admits Miller, "its going to take a lot to beat him. We need to have one good night where the track is where we want to be and our set-up is where it needs to be so we can battle and hopefully pull a win out." Miller won the Friday night Dash claiming his first pole position of the season. "Midgley was pretty quick both nights. I don't know if we had a car both days to actually be faster than him. Maybe the second night we had the faster car on the inside groove. We have to step up our game and maybe be able to beat Darrell the next time out."
Another driver that had identical finishing spots in Edmonton on the weekend was Dean Deatherage. The Beaumont, Alberta driver won his Friday and Saturday night Heat races and finished fourth in both Feature events. "I've had more fun in this car since I started driving,"exclaims Deatherage, "my confidence driving the car is way higher than it has been in the past thanks to Shawn [Kennedy] helping me with setting up this car."

The on-track consistency is paying off as the driver of the Scott Safety #18 Dodge now sits in a two-way tie for third with Edson, Alberta's Dwight Kennedy in the 2015 Championship point standings. "Getting in there and racing against Darrell, Mark, Dwight and Bruce and being able to challenge them sure helps." Deatherage ran his first NPP Series event back in 2008 as a fill-in driver.
NPP SERIES – THE INSIDE TRACK
– the NPP Late Model has been the support class at the Gold Cup sprint car race since 1999. Midgley is the third driver to sweep both nights of a Gold Cup race weekend. (Bruce Broughton – 2010 // Trevor Emond – 2003/2005)
– Darrell Midgley is the first driver since the 2004 season to win four consecutive NPP Series Feature events to start off a season. The last driver to accomplish this was Leduc, Alberta's Trevor Emond who would also win the season championship the same year.
– retired NPP Series driver Mike Tom (2011 NPP Champion) and Kevin Wheeler (2012/2013 Champion) are the only other drivers to win five Feature events in a row.
– while leading the Dash Friday night, Shawn Kennedy's engine expired. Kennedy did an engine swap in preparation for Saturday nights race only to have this engine expire in his Heat race.
– Bruce Broughton had his engine expire in his Saturday night Heat race.
– Marc Hobe' ran his last race in Edmonton Saturday night (finished 7th). After spending the last few years in Alberta, Hobe' is moving to Arizona.
– a wild rain and lightning storm on Friday night sent race teams and fans running for cover just as the intermission started. The rain delay lasted 1 hour 32 minutes.