SANGUDO, AB. – The unofficial start to the 2013 race season began for two Northern Provincial Pipelines Late Model Series competitors on the Canada Day long weekend. Defending NPP Series Champion Kevin Wheeler and his brother Wayne Wheeler brought their race cars out to Sangudo Speedway Sunday afternoon. "Boy that felt good," exclaims Kevin Wheeler, "we haven't had the car on the track this year due to all the cancellations and rain outs." The scheduled NPP Late Model Series event at Dinosaur Downs Speedway in Drumheller, Alberta (June 29 & 30) was cancelled by track officials due to the floods in Southern Alberta. Scheduled race events in Rimbey and Edmonton were also cancelled due to rain. "We got the cobwebs shaken off. The car ran excellent. Let's hope we can finally get our season underway without any more interruptions."

NPP Series Rookie of the Year contender Wayne Wheeler welcomed the seat time in Sangudo, Alberta as well. "I raced my car once last year [in Edmonton] and have been counting down the days to the beginning of this season." Wheeler, who is also a motocross competitor, says he'll be behind a steering wheel more than handlebars this summer. "I'm focused on the NPP Series this year instead of motocross," admits Wheeler, "I was racing at Antler Lake a couple weekends ago but I'm not chasing points. I am going to keep my brother on his toes in the NPP Series this year." Both Kevin and Wayne Wheeler had three lengthy on-track sessions in their NPP Late Model race cars.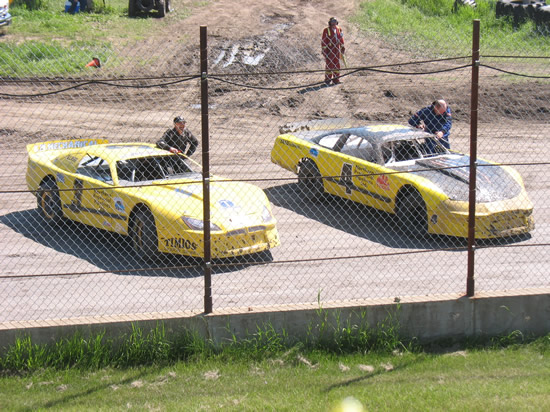 "We got to experience changing track conditions," says Kevin Wheeler, "my brother actually surprised me today. He can sure wheel a car. He was hooked up way better than I was in our last session. I couldn't catch him." Kevin Wheeler trailed his brother by about three-car lengths at the end of the final test session. "I was going to offer up some pointers but he may not need them." The next scheduled race event of the NPP Late Model Series season is a two-day show at Edmonton's Castrol Raceway. The NPP Late Model Series is the backup class to the open-wheeled Sprint Cars at the annual Gold Cup race on Friday and Saturday July 19th and 20th.

NPP SERIES -THE INSIDE TRACK
– Kevin Wheeler's two sons (Chase and Cruz) were also having some fun Sunday afternoon. The 10 and 11 year olds were out on the oval track in their mini sprint cars.
– a major rain storm passed through the region around 4AM Sunday morning. The start time of 1:00pm was delayed by 45 minutes. Once underway, the event took just 3 hours 7 minutes to complete. Track conditions were near perfect for a daytime race.
– NPP Late Model Series officials were present at Sangudo Speedway watching Sunday's test 'n' tune. The last official appearance of the NPP Series at Sangudo Speedway was August 12th, 2001.