KALISPELL, MT – Three-time NPP Late Model Series champion Trevor Emond scored his first ever pavement Super Late Model victory in the United States Saturday night (May 31st). Emond started 18th and methodically moved his way through the field in the 3rd annual G.E.T. Rich 212 at Montana Raceway Park. "I finally got that huge gorilla off my back," laughs the Leduc, Alberta driver, "I've been trying for more than a decade to do this and it finally happened." At the halfway point of the race Emond sat seventh in his Western Camp Services #17 Chevrolet. Just a few laps past half way, Emond quickly gained two spots to move up to fifth. "I sure didn't make it easy on myself where I qualified. Having a fast car for one lap is one thing [when you're qualifying]. It's another thing to have a fast car for the entire race which is what happened Saturday night." With just 50 laps remaining Emond began to challenge California's Jeremy Doss for the lead. With the opportunity to head to victory lane within his grasp, Emond muscled by the Upper Lake, California driver to take over the race lead with 22 laps to go. "Out of the 23 cars that were here, probably 15 or 16 could have won this race." Emond is still savoring his first US victory but he is already looking towards an event that he wants to win even more.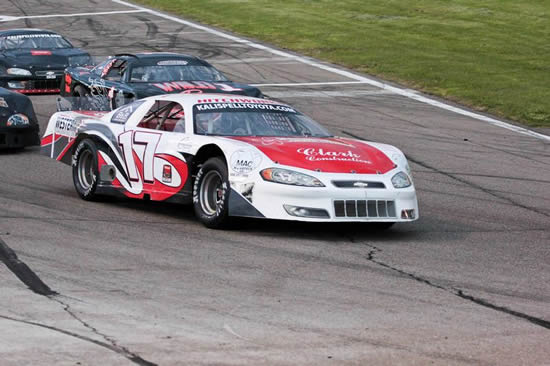 "The focus now is on the Montana 200," exclaims Emond, "my best finish in this race was fourth a few years ago [finished 6th last year]. Would love to win this race." Emond is the early season point leader in the Super Late Model division at Montana Raceway Park. "The goal is to win a championship at a track that has never been won by a Canadian before." Emond came close in 2013. "Last year we had a couple second place finishes but got taken out at the last race which ruined our chances at a good points finish for the season." Emond finished 4th in the 2013 [9th in 2012, 14th in 2011]. Emond says that although his focus is on racing south of the border right now, there may be a few Canadian races he might compete in this year. "I'm hoping to run at least one race in Saskatchewan this summer." Emond was the 2010 Dakota Dunes Season Champion at Auto Clearing Speedway in Saskatoon. Emond last ran a full season in the NPP Late Model Series back in 2010 [finished 11th]. A 'guest' driver appearance in August of 2012 saw Emond sweep the NPP Late Model Series weekend at Merritt Speedway south of Kamloops, British Columbia. Emond remains the all-time Feature win leader in NPP Late Model Series competition with 33 trips to victory lane and is the only driver in NPP Series history to win three consecutive championships.

NOTE: Trevor Emond's son Tyler scored his first win in the United States on May 17th racing his Bandolero to victory lane at Montana Raceway Park.