STONY PLAIN, AB – NPP Late Model Series competitor Mike Tom officially put a wrap on his 2009 racing season with a weekend function for family, crew and sponsors. "It's a way of thanking everyone involved because without their help, racing would be impossible." Tom finished sixth in the 2009 NPP Championship points chase just five points back of fifth. Close to 75 people gathered at the FAST (Father and Son Team) race shop near Stony Plain on Saturday.
Tom hired a local band to perform at the season ending party. 'AIN'T NO RODEO' used the shop's lift as their main stage and entertained the crowd the entire night. "The win at the Gold Cup race was definitely the highlight of our season," indicates Tom who had five top-ten finishes in the Hinton Oilfield Services #55 Chevrolet in 2009, "getting knocked out the race in Elma was without a doubt the low point." Tom gave a heartfelt thank-you speech to those in attendance and mentioned that he is already planning for the 2010 NPP Late Model Season.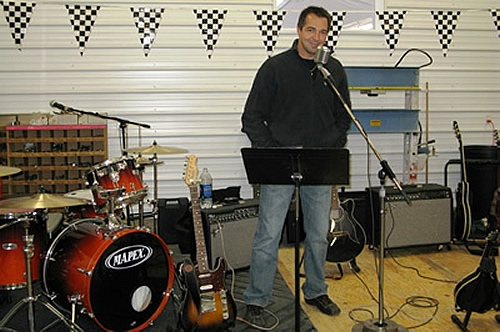 "There were a lot of positives that we can take out of this year. At times we probably had the best car on the track. All I can say is look out next year!" 2010 will be Mike's 15th year in racing with his dad Allen at his side.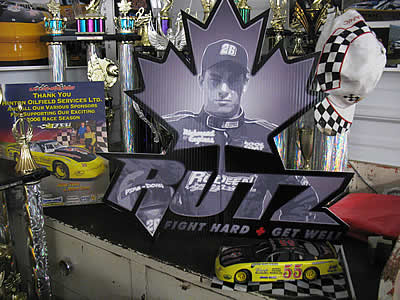 During his speech Saturday night, Tom briefly talked about last months terrible crash in the United States involving Canadian sprint car driver Travis Rutz. "We've gotten to know the Rutz's over the past several seasons," adds Tom, "we've pitted by them on numerous occasions in Edmonton. I've bumped into Doug (father) several times down at Shark Engines in Washington State. It's a close racing family and what happened (crash) really hit home for me." FAST Racing purchased 50 Travis Rutz support stickers Friday. "We re-sold all the stickers plus several people made additional donations to the fund as well. Rutz is part of the racing community and we felt the need to help." Travis Rutz is a talented sprint car driver based out of Langley, British Columbia. Rutz won the 360 Nationals plus the Kasey Kahne Foundation race at Washington's Skagit Speedway in 2006. He is a two time winner of the Gold Cup at Edmonton's Castrol Raceway (2004, 2007). His most recent win came in Edmonton back on September 12th. Rutz was racing at Terra Haute, Indiana on September 26th when he was involved in a three car crash. Rutz suffered critical injuries in the crash and was airlifted to Methodist Hospital in Indianapolis where he will remain for some time. Travis Rutz get well/support stickers are available at Gee and Gee Racing in Leduc.