THREE DRIVERS: ONE CHAMPIONSHIP
EDMONTON, AB. – Three drivers aim for their first ever Northern Provincial Pipelines Late Model Series Championship this Saturday night. Veteran racers Bruce Broughton, Mike Tom and Kevin Wheeler are separated by just 55 points heading into the Lucas Slick Mist 2010 Season Championship race. "This is my tenth season in racing," says current point leader Bruce Broughton, "it would definitely be a feather in the cap for me and my team if we're able to hang on and win this." Broughton's last Season Championship came in 2001 behind the wheel of a Super Stock at Castrol Raceway.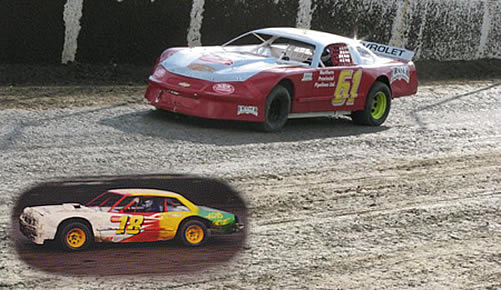 "My brother and I (Brent) shared the driving duties that year in Edmonton. It was our last season racing in that class." Broughton tried his hand at racing open wheel Sprint Cars for three seasons (finished 4th in 2003) but returned to stock car competition in 2005 winning the NPP Series Rookie of the Year honors. In his six seasons with the NPP Series, the Spruce Grove Alberta driver sits third for all-time heat race wins (38) and fifth in Feature victories (7). "Its a great class to race and its a great group of drivers to race against."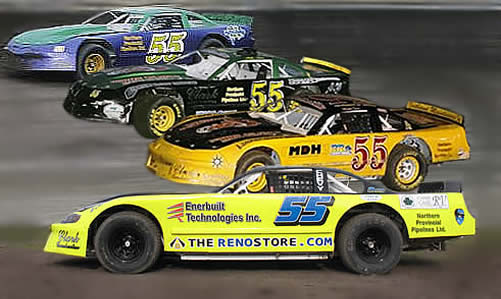 Mike Tom is no stranger to winning Season Championships. Tom was a dominant force in the Super Stock class at Yellowhead Raceway in Hinton, Alberta and Rocky Mountain Speedway in Valemont, British Columbia. Tom amassed eight track championships between these two facilities from 1996 to 2003. In his rookie season with the NPP Series, Tom finished fifth in the points chase. "This is my seventh consecutive season running in the NPP Series," indicates the Stony Plain, Alberta driver, "we've been close (Championship) a couple of times over the years. We are only 36 points behind Bruce in the standings. Anything can happen." Tom finished second in NPP Series points in 2005 and third in 2008 and currently sits fourth for all-time heat race wins (37) and sixth in Feature victories (5).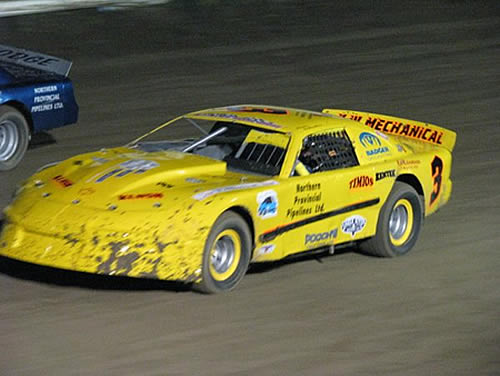 Like Tom and Broughton, Kevin Wheeler also has championship experience. The Whitecourt, Alberta driver, currently third in the NPP Points chase, claimed the Alberta Outlaw Modified Championship in 2002. "Eight years can sure go by pretty quick," exclaims Wheeler, "sure seems like along time ago." Wheeler started racing in the NPP Series in 2006 and has 12 Heat race wins and 2 Feature victories in five seasons. "Sure would like to end the season with a win". Wheelers last Feature win came on September 1st, 2008 at Gray's Harbor Raceway in Elma, Washington. Wheeler has finished second in his last two Feature events this season and is just 18 points behind Tom and 55 points behind Broughton. "Heck, winning a championship would be nice too!"
2010 LUCAS SLICK MIST SEASON CHAMPIONSHIP
Saturday, September 11th UPDATE: Saturday, September 18th
Castrol Raceway – Edmonton, Alberta
Gates @ 4:00 /// Racing @ 6:00PM