EDMONTON, AB. – Just three races remain in the 2012 Northern Provincial Pipelines Late Model Series race season.  With the August long weekend debut at Merritt Speedway behind them, NPP Series teams return to the familiar confines of Edmonton's Castrol Raceway this Saturday night.  "One race at a time," says current point leader Chris Beaulieu, "a bad night [in Edmonton] is not an option."  The Campbell River, BC driver drove his All Weather Windows #90 Dodge to Feature finishes of 5th and 8th place at the two day show in British Columbia.
"Remain calm, cool and play it smart.  I just want to finish every race."  Beaulieu has two Feature wins in Edmonton this season and currently leads defending NPP Series champion Mike Tom by just 35 points in the standings.  Tom is confident heading into the one night show in Edmonton.  "Looking forward to going back to a more familiar track."  The Stony Plain, Alberta driver has 5 Feature wins in the last 8 NPP Late Model Series appearances at Castrol Raceway dating back to the 2010 season.  "I'm pretty comfortable at this track.  There sure is a lot less guesswork in car set-ups."
Tom finished 5th and 6th in the Features at Merritt Speedway on the August long weekend in his Belterra/TFL Industria #55 Chevrolet.  "If cooler heads prevail we are going to see some great racing [this Saturday night]."
Whitecourt, Alberta's Kevin Wheeler wrapped up the August long weekend with a third place finish in British Columbia.  "It's too bad about Saturday night [finished 11th]," says the driver of the KW Mechanical/Bill Weins Trucking #3 Dodge, "we salvaged the weekend with a third on Sunday night."  Wheeler sits just 8 points behind Tom in the standings and desperately needs a win. "We've been close so many times in Edmonton the last few years."  With NPP Feature wins in Lethbridge, Alberta and Elma, Washington Wheeler has yet to stand in Edmonton's victory lane. Wheeler has finished second a total of five times in the last 9 NPP Series Feature events at Castrol Raceway going back to the 2010 season.  "It's time for a win in Edmonton. Period."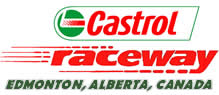 >SATURDAY, AUGUST 18th
Gates at 4:00pm
Racing starts at 6:00pm
Also racing: The 2012 Extreme Cup featuring Sportsman Sprint Cars.
Edmonton spectator admission:
$20.00 – Adults
$10.00 – Youth
$10.00 – Seniors
FREE – Children 5 and under