TEST 'n' TUNE BLACK FLAGGED
EDMONTON, AB – The Oval test 'n' tune scheduled for this Saturday (April 28th) at Castrol Raceway has been cancelled. "Castrol Raceway track officials had their meeting today (Tuesday)," says NPP Series announcer Gord Craig, "it was decided that it would be in the best interests of all competitors not to hold a test 'n' tune this Saturday." Very little snow remains at the track site but the remnants of a cold winter linger.
"I am a little disappointed we had to make this call," says operations manager Denny Miller, "the oval facility was drying out real nice but underneath the oval racing surface there is still a lot of frost left in the ground." The melting frost has created several soft spots on the oval track which is preventing heavy equipment from venturing onto the clay oval surface.
"Facility preparations continue for the season opener," adds Miller, "it's been a long off-season for everyone and we can't wait for the green flag to drop." Part of the facility preparations include the reworking of the new pit area outside the oval track.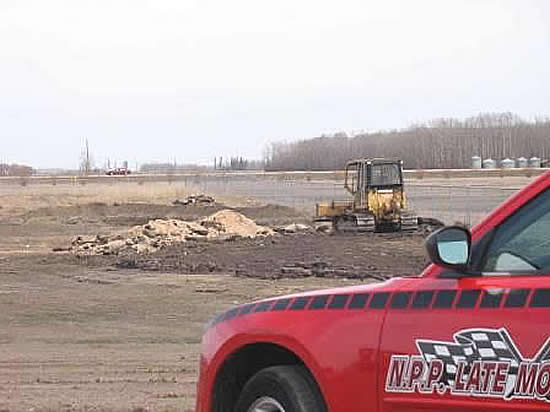 "Northern Provincial Pipelines is helping with the basic groundwork of the new oval pit area," says Craig, "pitting inside the oval was getting just a little too crowded with all the bigger race car haulers. The NPP Series and the other racing divisions are very happy with the move. There will be a lot more space for maneuvering by pitting outside of the oval."

Castrol Raceway's kicks off its 19th season of oval racing when the 2009 season begins on May 2nd. The Northern Provincial Pipelines Late Model Series celebrates its 9th consecutive season of racing action this year. Castrol Raceway is once again the home track for Canada richest short track series on the dirt.