SATURDAY NIGHT BORDER BATTLES
VICTORIA, BC – The 2019 season opener of the Keg Late Model Series was Saturday night at Western Speedway.  Jason Frost kicked off his season by qualifying the Northern Provincial Pipelines Ltd./The Keg #81 Dodge in the number one spot.  "We were fastest in qualifying," exclaims the Victoria, British Columbia driver, "but there were a lot of good drivers here tonight." After a fourth place finish in his Heat race Frost was ready for the first of two 50 lap Feature events. "It was a bit of a track position race tonight," says Frost, "unfortunately we never quite got to the front."  Frost finished 5th in the first 50 lap Feature and 6th in the second 50 lap Feature.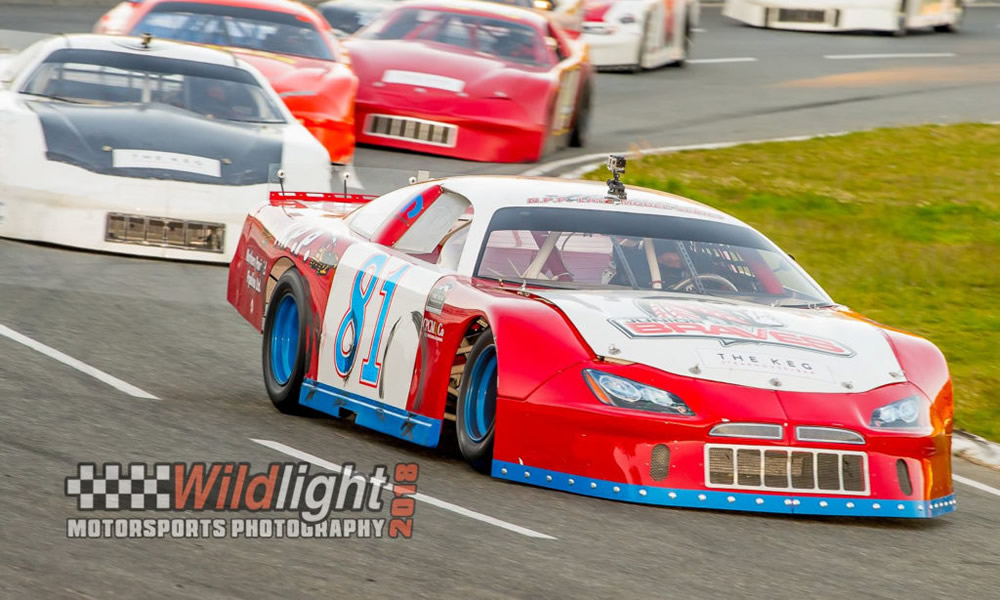 "The car was good all night. We made all the right decisions (regarding setup) and that's the most important thing." Each Feature had only a single caution flag fly adding to the fast paced night. Malahat, British Columbia's Gary Smith won the first Feature. Nanaimo, BC's Mike Haslam won the second Feature. "I would have certainly liked to have finished a little bit higher," adds Frost, "but it is the first race of the season. Onward and upward. We'll be ready to go again for the next race." Race #3 and 4 of The Keg Late Model Series at Western Speedway is Saturday, June 1st.
ALGER, WA (May 18) – Lane Zerbin ended a string of frustrating DNF's the past few race weekends with a third place finish Saturday night in the Feature at Skagit Speedway. "It's satisfying to finally finish one and have no damage on the car.  We got a couple pluses for the night."  There was a last minute change of race tracks for Zerbin.  The Victoria, British Columbia driver originally planned to compete at Grays Harbor Raceway but altered his destination.  "The weather wasn't looking too good (in Elma) so we decided to go to Skagit."  Zerbin began the night with a 4th place finish in his Heat race.  "I tried the top a few times but it was a little greasy so I lost some spots."  Zerbin started the 25 lap Feature near the middle of the pack.  "Started 8th in the main."  There were several caution flags at the beginning of the Feature.  "Unlike the past few races I managed to avoid a little bit of carnage early in the race." With a number of green flag runs, Zerbin made his charge to the front in the Northern Provincial Pipelines Ltd./C-Force Marine #81 Modified.  At the halfway point, Zerbin found himself running second.  With five laps to go the final caution flag flew. "I know I had quite the lead over the third place car.  Myself and the leader were catching lapped traffic.  I didn't really need that caution flag."
On the restart Zerbin would relinquish second place.  "I got pinched down on the bottom."  In a race that saw three different leaders, Seabeck, Washington's Craig Moore won the Feature in a photo finish at the line. Sedro Wooley, Washington's Kevin Smith was second.  Zerbin finished third to register his second podium finish of 2019.  He had a runner-up finish back on April 20th, also at Skagit Speedway.  Zerbin hopes this podium finish is the start of better things to come.  "The next Washington Modified tour race is next Saturday (May 25th).  Then we will start focusing on the multi-day shows that start in July.  Its time to click off some wins."

2019 ZERBIN FEATURE FINISHES
3rd – Saturday, May 18th Skagit Speedway
18th – Saturday, May 11th Skagit Speedway(DNF)
19th – Saturday, May 4th Grays Harbor Raceway (DNF)
18th – Saturday, April 27th Grays Harbor Racewa (DNF)
2nd – Saturday, April 20th Skagit Speedway