ESTEVAN, SK. – Looking to expand its racing horizons for the 2013 season, the Northern Provincial Pipelines Late Model Series visited Estevan, Saskatchewan on the weekend. This venture comes just three weeks after the 2012 NPP Series Championship race in Kindersley, Saskatchewan on the September long weekend. "Estevan Motor Speedway has been on our radar for a few years," says NPP Series announcer and media relations director Gord Craig, "this facility does come highly recommended to us by competitors in the IMCA Modified division." Estevan Motor Speedway was wrapping up its 13th consecutive season of oval race action Saturday and Sunday. "This is an incredible facility," exclaims Craig, "whether you are a spectator or a competitor, this track is absolutely top notch in all areas." A total of 56 teams (4 classes) filled the competitor pit area for the Saturday afternoon race. A record 71 competitors were in the pits for Sunday afternoons 150 lap Enduro event.

"I really like the layout of this facility," adds Craig, "spectators can view some of the action in the pits from the concourse area." When not in the concourse area, spectators have very comfortable seating arrangements. "I have been to a few dirt tracks over the years. This has got to be the best spectator seating I have seen. It is bleacher style seating but there are contoured seat backs for all the spectators." Spectators also have the option of watching the races from comfort of their vehicles high above turn 1 and 2. The Estevan Motor Speedway VIP skybox suites are also enclosed with heat and air conditioning. "It's no wonder this facility gets near sell-out crowds each and every race."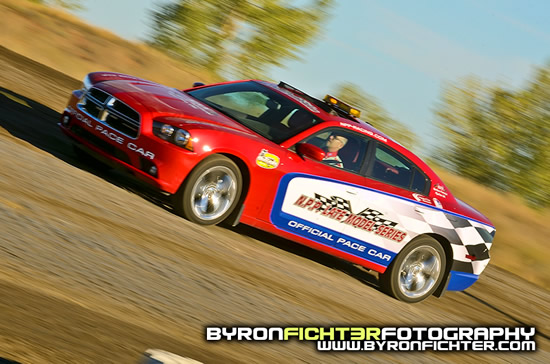 The Official Pace Car of the NPP Late Model Series was on display in the concourse area during the Heat races but was put to work Saturday afternoon leading the Legend Cars and the IMCA Modifieds for their final Features of 2012. "There is very little down time between races," exclaims Craig, "when cars are on the track, drivers line up in front of the main grand stands ready for the next race. Estevan staff run a very tight, fast paced show." Including hot laps, Saturdays oval show (9 heats / 4 Features) took less than two and a half hours to complete.

"Yes we are branching out a bit," admits Craig, "racing in Alberta, British Columbia and Saskatchewan this season proves it. Hopefully we can add Estevan Motor Speedway to our list of tracks next season." The Northern Provincial Pipelines Late Model Series has competed at 11 different race facilities since its first season back in 2001.

The NPP Late Model Series congratulates Saturday's Feature winners at Estevan Motor Speedway: