DRAYTON VALLEY, AB – There is added anticipation for teams and fans in the province of Alberta this upcoming race season. Rapid Fire Motorsports Park, which has sat dormant for close to a decade, is re-opening in 2016. Track officials say resuscitation work at the facility is ahead of schedule, which will allow an earlier-than-planned opening. The Drayton Valley Speedway Oval will open its doors for a two-day test and tune weekend on Saturday and Sunday, May 7th and 8th.
"All dirt track racers are welcome to come out," says track president Brandon Murray, "time to see some race cars back here again." More than four-hundred crew hours of work has gone into the facility since April 1st. "It's starting to look like a track again," smiles Murray, "but you can't have a track without race teams." Murray says the two-day test is as much for the track as it is for racers. "We are still assembling our staff and volunteers. Response to the re-opening of this track has been incredible."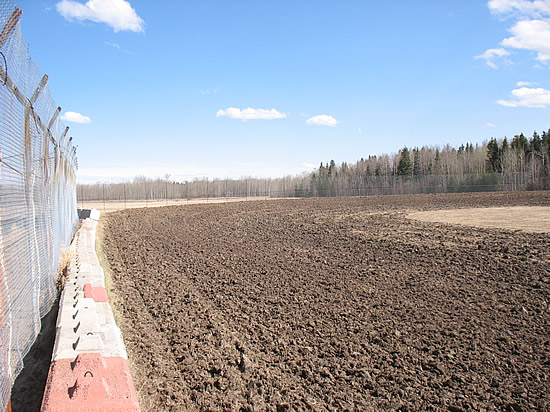 The Drayton Valley test doesn't conflict with any other race tracks test and tune dates. The oval test and tune at Edmonton's Castrol Raceway is May 14th. Central Alberta Raceways in Rimbey hosts their oval test and tune a day later on May 15th. Sangudo Speedway is having a track clean-up day on May 7th but there is no on-track time. "Working with other race tracks is very important so there are no conflict dates," adds Murray, "our schedule shows that." Drayton Valley Speedway (Rapid Fire Motorsports Park) last held an oval race weekend on August 19th and 20th, 2006 which featured the Northern Provincial Pipelines Late Model Series. Two-time NPP Series Champion Dwight Kennedy swept the weekend Features.
DRAYTON VALLEY SPEEDWAY
2016 SCHEDULE
Saturday, May 7th (test 'n' tune) NEW
Sunday, May 8th (test 'n' tune) NEW
Saturday, June 4th
Sunday, June 5th
Saturday, July 16
Sunday, July 17
Saturday, August 6
Sunday, August 7
Saturday, September 17
Sunday, September 18
Saturday, October 8
Sunday, October 9