EDMONTON, AB. – The Northern Provincial Pipelines Late Model Series could become the first racing series in Canada to schedule events year round. New race tires specifically designed for wet and snowy oval tracks have arrived. BS Racing Laboratories, a little known racing and research facility in Dusseldorf, Germany, has spent the past three years perfecting a specialized race tire for our unpredictable weather.
"We've developed a tire specifically for your racing climate," says president Hans Bursheidt, "when one competes on wet or snowy racing surfaces, you need a tire that delivers confidence. This tire does that." The new tires do look similar to the current race tire that NPP Series teams are using now. "The tread is a little deeper," adds Bursheidt, "to quickly distinguish between your regular tires and these new tires, we've etched a light blue snowflake on the tire's sidewall so there is no guessing." Defending NPP Series Champion Kevin Wheeler has already tested the new race tire and was amazed at the results. "I can't believe the traction these new race tires have in the snow," says the Whitecourt, Alberta driver, "I can't wait to try these tires in a downpour at the race track."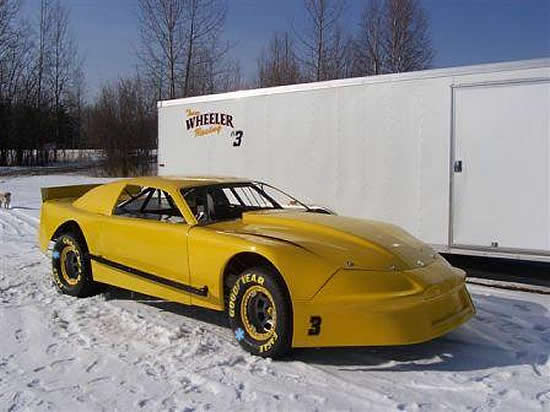 Wheeler has completely rebuilt his championship car in preparation for the upcoming season. He notes that with the addition of the new racing tire, the NPP Late Model Series has changed the face of racing in Western Canada once again. "Bring it on! The possibilities of racing when there is a foot of snow at a track or racing during a thunderstorm just makes things more interesting." Castrol Raceway opens its Oval track for the first time this season on April 27th for test 'n' tune. Despite a record amount of snow cover which has been slow to melt in the Edmonton region, NPP Series drivers might be testing out the new mud and snow race tires sooner than expected in 2013.
Other 'notables' on this date (April 1st):
1734 – Canada's first lighthouse began operating in Nova Scotia
1918 – Prohibition took effect in Alberta.
1949 – Tupperware was patented.
1960 – Trans Canada Airlines (now Air Canada) began jet service between Vancouver, Toronto and Montreal.
1975 – Canadian radio stations started giving the temperature in Celcius.
1986 – World Oil price dips below $10.00 a barrel.
1992 – NHL Hockey players went on strike for the very first time.
1999 – Nunavut is established as a Canadian territory.
2013 – Happy April Fools Day! Racing in snow or severe thunderstorms…..are you kidding!!