RAIN DAMPENS NIGHT #1 OF 08 GOLD CUP
EDMONTON, AB – The weather forecast called for a 40% chance of showers Friday night. Ask any NPP Late Model Series race team that gathered at Castrol Raceway for Night #1 of the Gold Cup and they will tell you that the forecast was 100% wrong. "It was a very frustrating night for everyone," sigh's NPP Series Announcer Gord Craig, "three major rainstorms within a 3 hour time frame. What can you do? The racing surface can only absorb so much moisture." The first rainstorm hit just after 5PM. Once the rain stopped falling, race teams from both the Northern Provincial Pipelines Late Model Series and the Alberta Sprint Tour did a tremendous job of packing the track. A second, less severe storm hit around 6:30. Once again eager drivers jumped into their race cars to pack the moisture back into the track.
The third and final rainstorm hit just after 8:30. Sprint Cars were qualifying at the time when the final rainstorm hit the facility. Race officials made the hard decision and cancelled Night number 1 of the Gold Cup.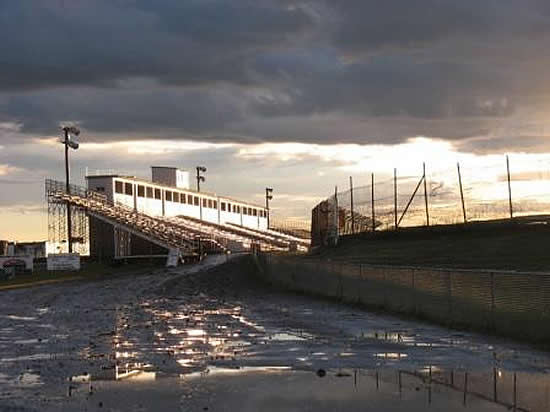 The 2008 Gold Cup will be a one night show with spectator gates opening at 4PM and racing at 6PM on Saturday.