RIMBEY, AB – For only the sixth time in its fourteen year history, the Northern Provincial Pipelines Late Model Series wraps up its season with a two-day show. Central Alberta Raceways will be the battleground that decides the 2014 season champion of Western Canada's toughest racing Series 'on the dirt'. The Rimbey, Alberta track is celebrating its 10th season of oval racing. "The NPP Late Model Series was here for the very first race," exclaims announcer Gord Craig, "we christened this race track, so it's only fitting that we scheduled our championship weekend here." The NPP Late Model Series originally scheduled its 2014 season opener in Rimbey. "We really were hoping to start our season here as well but unfortunately we got rained out [on May 31st]. The season opener moved to Edmonton instead." Central Alberta Raceways is just the fourth track to host the season championship of the NPP Late Model Series. Castrol Raceway (Edmonton, Alberta), Bridge County Raceway (Lethbridge, Alberta) and Flatlanders Speedway (Kindersley, Saskatchewan) were prior season championship host tracks. "This is the fourth consecutive year that the season championship will be decided using a two-day race weekend."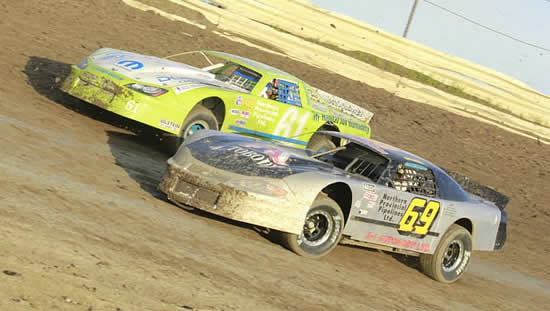 The top-three drivers in the NPP Series Championship chase are separated by just 32 points. Defending and two-time season champion Kevin Wheeler sits just 10 points back of leader Mark Miller from Calgary, Alberta. "I'm not cutting anyone any slack at all this weekend," admits the Whitecourt, Alberta driver, "especially the point leader." Wheeler swept both Feature events of Championship weekend last year at Flatlanders Speedway in Kindersley, Saskatchewan. Wheeler's best ever Feature finish at Central Alberta Raceways was third back in 2012. Wheeler has an average Feature finish in Rimbey of 8.5. With a strong wrap-up to the season Wheeler could become just the second driver in NPP Series history to win three consecutive track championships. Point leader Miller has not run a competitive lap at Central Alberta Raceways. "We had the car out for a test 'n' tune back in July but didn't get much track time. Figuring out car set up will be huge for us this weekend."

Two-time NPP Series Champion Dwight Kennedy won the very first NPP Series Feature in Rimbey. The Edson, Alberta driver sits third in the NPP Championship points chase and has the best average Feature finish of all drivers at Central Alberta Raceways this weekend at 4.3. "Thanks to the weather [rainouts] it's been a few years since we've raced in Rimbey," says Kennedy, "I finished in the top 10 [7th] the last time we were here. Will have to do better than that to catch Kevin and Mark." Bruce Broughton, the 2010 NPP Series Champion, was the last competitor to race to victory lane. The Stony Plain, Alberta driver swept the June 23rd, 2012 race night with a Heat, Dash and Feature win.
NPP SERIES – THE INSIDE TRACK:
– Saturday nights NPP Series Feature in Rimbey will be the 150th Feature competed since the first season in 2001.
– first run in 1994, Sunday's Feature is also the 21st annual Oilmen's Classic race.
– the 2013 NPP Series race dates in Rimbey were rained out including the rain-out date.
– since 2005, the NPP Series has lost 8 race dates due to inclement weather (rain & snow) at Central Alberta Raceways.
– Kevin Wheeler (Whitecourt, AB) won the first and last NPP Series race of the 2013 season. Wheeler won the 2014 season opener.
– Dwight Kennedy (Edson, AB) has finished second or third in the points chase a total of six-times since 2001. Finished 5th in 2013.|
– Jay Carr (Devon, AB) can clinch the 2014 NPP Series Rookie of the Year honors by starting Saturday nights Feature. Carr currently sits 7th in points.
– Bruce Broughton (Stony Plain, AB), Dean Deatherage (Whitecourt, AB) and Wayne Wheeler (Whitecourt, AB) are the only NPP Series drivers to register top 10 finishes in every Feature this season.
– Both Kevin Wheeler and 2009 NPP Series Champion Darrell Midgley (Sidney, BC) have recorded 49 Top 10 finishes in NPP Series Feature events.
– Darrell Midgley has never had a Top-10 finish in Rimbey, Alberta.
– Shawn Kennedy (Edson, Alberta), Bruce Broughton (Stony Plain, Alberta) and Dwight Kennedy (Edson, Alberta) were heat race winners at the first ever NPP Series event in Rimbey back in 2005.
– Bruce Broughton leads all NPP Series drivers with 4 Heat race wins. Shawn Kennedy sits second with 3 Heat race wins in Rimbey. Broughton has two pole wins in Rimbey.