RIMBEY, AB – The Northern Provincial Pipelines Late Model Series kicks off its 14th consecutive season at Central Alberta Raceways today. This is the 10th season of operation for the Rimbey, Alberta facility. On July 30th, 2005, the facility held its very first race featuring the NPP Late Model Series on its 3/8 mile oval track.
Edson, Alberta's Dwight Kennedy went to victory lane at this inaugural event. Since 2005 the NPP Series has scheduled a total of 12 events in Rimbey. Unfortunately for everyone involved, seven of those scheduled appearances have been cancelled due to rain or wet snow. Last season, the June 9th appearance was rained out. A hastily organized June 22nd rain date was also rained out.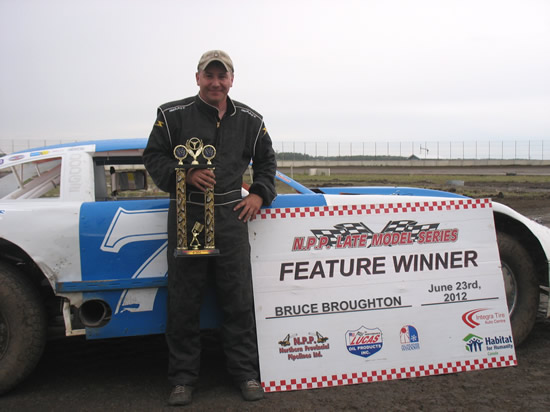 Bruce Broughton was the last NPP Series driver to head to victory lane in Rimbey. The Stony Plain, Alberta driver swept the June 23rd, 2012 event, winning his heat race, the 'A' Dash and also took the checkered flag in the Feature. Broughton is one of the top performers in Rimbey with 4 heat race wins, 2 pole wins and 1 Feature win. The Stony Plain, Alberta driver also won a heat race at the inaugural 2005 oval event. Edson, Alberta's Shawn Kennedy has 3 heat race wins and 1 pole win in Rimbey. Kennedy would like to forget his last appearance at Central Alberta Raceways back in 2008 where he crashed out and finished 15th. Sidney, British Columbia's Darrell Midgley has 2 heat wins in Rimbey but has never finished better than 13th in a Feature event. There are several NPP Series drivers that will be competing at Central Alberta Raceways for the very first time including Dean Deatherage (Whitecourt, Alberta), 2013 NPP Series Rookie of the Year Wayne Wheeler (Whitecourt, Alberta), Mark Miller (Calgary, Alberta) and Marc Hobe' (Safford, Arizona).
SATURDAY, May 31st
Classes Racing:
NPP Late Model Series (2014 Season Opener)
IMCA Modifieds
Hobby Stocks
Mini Stocks
COMPETITOR GATES @ 1:00pm (TRANSPONDERS: Yes // RACECEIVERS: Yes)

SPECTATOR GATES @ 5:00pm // RACING STARTS @ 6:00pm
SPECTATOR ADMISSION
$10.00 General
$ 5.00 Youth (ages 9 – 12)
FREE Children 8 and under
EVENT UPDATE: (as of 9:15am) Central Alberta Raceway track officials have cancelled tonight's scheduled race event featuring the NPP Late Model Series and the IMCA Modified Series. A heavy downpour of rain fell in the Rimbey, Alberta region for close to two hours just after midnight. Track and maintenance officials were already dealing with two straight days of heavy rain from Wednesday and Thursday. The competitor pit area and spectator parking area are in very poor condition with plenty of standing water. The oval track itself was in excellent shape before the massive overnight rainfall.