RACE DAY: SANGUDO, ALBERTA
SANGUDO, AB – The Northern Provincial Pipelines Late Model Series holds its first ever two-day points race at scenic Sangudo Speedway this weekend. Last September, Whitecourt, Alberta's Kevin Wheeler won the NPP Series Feature on the Sangudo, Alberta oval track. This race was the first appearance of the NPP Series at Sangudo Speedway since August 12, 2001. Wheeler [#3] is the current points leader heading into the weekend race and is considered the early favorite. Edson, Alberta's Dwight Kennedy [#81] is just 7 points back of Wheeler. Calgary, Alberta's Mark Miller [#69] sits third in points just 7 points back of Kennedy.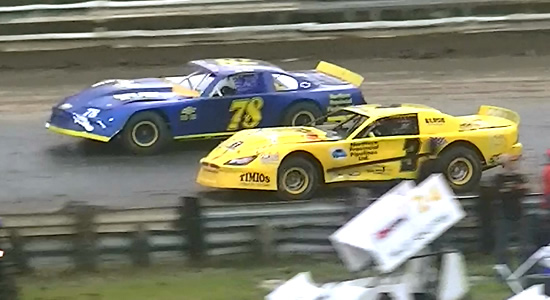 The Saturday, Sunday weather forecast is currently calling for clouds, showers and possible late day thundershowers. Track and NPP Series officials are casting a worried glance to the sky. The official website of the NPP Series will be updated immediately should the status of this weekend's race change due to the weather. Sangudo Speedway is located about 1 hour northwest of Edmonton, Alberta on Highway 43. The track is situated right beside the Sangudo Riverside Campground.
NPP SERIES – THE INSIDE TRACK:
– Darin Borysko will be behind the wheel of the Integra Tire #14 Dodge this weekend filling in for regular driver Darrell Midgley who has work commitments at Western Speedway in Victoria, British Columbia.
– Bruce Broughton ran his first ever Stock Car race at Sangudo Speedway on May 22nd, 1999 and proceeded to roll his race car on the very first lap. Broughton fixed the car up and won his first Feature in Sangudo on the second day of the two-day show. Broughton, the 2010 NPP Series Champion, currently sits 4th in points.
– Shawn and Crystal Kennedy are the only two drivers in the NPP Series lineup this weekend that have never turned a lap at Sangudo Speedway.
– Sunday's scheduled start time of 11:00am is the earliest start ever for a NPP Series race day.
– Dwight Kennedy swept the NPP Series inaugural two-day points race at Rapid Fire Motorsports Park winning both Features in Drayton Valley, Alberta back on August 19th and 20th, 2006.
– Unlike the NPP Series, which lost 6 race dates due to rain last season, Sangudo Speedway never had a single rain-out in 2013.

SANGUDO, ALBERTA
>SATURDAY, June 28th
Spectator Gates open at 11:00am
Racing at 1:00pm

>SUNDAY, June 29th
Spectator Gates open at 9:00am
Racing at 11:00am

Classes Racing (both days):
– NPP Late Model Series
– Northern Alberta Mini Stock Series
– 600cc Sprint Cars
– Super Stocks
– Street Stocks

Spectator Admission (Sat or Sun)
General $12.00
Youth (age 6 – 14) $6.00
Seniors $6.00
under age 6 FREE