PROGRAMS…. GET YOUR PROGRAMS!!
EDMONTON, AB – This weekend, race fans at Castrol Raceway (Edmonton) and Rocky Mountain Raceway Park (Okotoks) will be the first to flip through the official 2009 souvenir program of the Northern Provincial Pipelines Late Model Series. "This is the fourth consecutive season we've had a souvenir program," says NPP Series announcer Gord Craig, "it's a good looking program with more full color race photos than last year plus there are more chances for fans to win."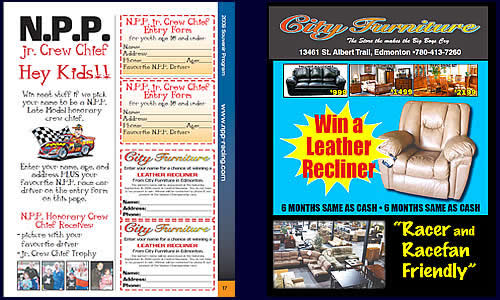 Two of the more popular NPP contests return. "The NPP Jr. Crew Chief award is back for the younger race fans. For the adults, someone at the end of the season is going to win a leather recliner from City Furniture. The Great Wash is a brand new program sponsor this season and they are giving away free car washes to their brand new 7 bay facility in Edmonton." Race fans will also have the opportunity to win product from Series sponsor Lucas Oil.