WHITECOURT, AB. – Less than twenty-four hours after Thursday's Capital X Parade in downtown Edmonton, Northern Provincial Pipelines Late Model Series competitor Travis Day is still talking about the experience. "It was an awesome day, great weather and one of the biggest parades I've ever been in." More than 225,000 people lined the four kilometer parade route to watch marching bands, floats, horses and several motorsport themed entries.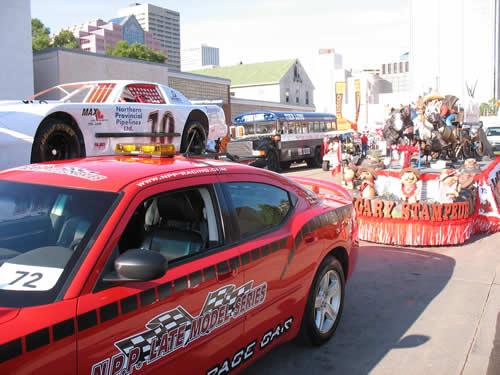 To be apart of the 105th annual Edmonton parade, Day and crew chief Brett Wilson left Whitecourt just before sunrise Thursday morning to drive the two and a half hours to the downtown parade assembly area. "It was pretty easy (to get to downtown Edmonton). We just followed the pace car to get where we had to go."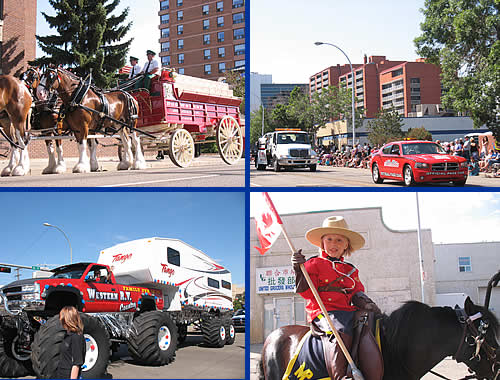 Both Day and Wilson managed to watch more than half of the parade at the official starting point before heading back to their flat bed truck hauling the Trappers Auto Parts #10 Chevrolet. The NPP Late Model Series entry (Lucas Oil Dodge Charger Pace Car/ Day's race car) was in good company in the parade line up. It was sandwiched between the Knights of Columbus and the Calgary Exhibition and Stampede float. A fly-over by three CF 18 fighter jets kicked off the two hour parade which was televised locally on Shaw TV.
Day has participated in many parades over the years and pointed out one major advantage. "Unlike a race we really don't have to do anything to the car after a parade. It's all nice and clean, in one piece and ready to go." Day will be ready for the next scheduled NPP Series on-track race event. The 17th annual Oilmen's Classic runs Friday and Saturday August 20th and 21st at Edmonton's Castrol Raceway. Day was a participant in the very first Oilmen's back in 1994.