ON THE HUNT FOR NASCAR POINTS
MEMPHIS, TN. – Canada's DJ Kennington gets behind the wheel of his Mahindra Tractor/Northern Provincial Pipelines Ltd. sponsored #81 Dodge this Saturday at Memphis Motorsports Park. Just four races remain on the NASCAR Nationwide Series schedule. The Tennessee race track holds special memories for Kennington. "This is where I ran my first ever NASCAR race (2006)," says the St. Thomas Ontario driver, "it's a short track facility (.75miles). It's like the grassroots of racing here. I'm really looking forward to the race this weekend." Kennington needs a strong showing in Memphis if he hopes to have a shot at a top 25 finish in the Nationwide Series point standings. "Top 20 in points is out right now," admits Kennington, who sits 28th in the standings, "but a top 25 finish in points is still possible. That's where we want to be." Kennington is just 48 points behind veteran driver Kevin Lepage who holds down the 25th position in the standings. Landon Cassil and Morgan Sheppard sit 26th and 27th in points. "We gained two positions in the last race (Charlotte) by racing hard but smart. We'll see what happens Saturday."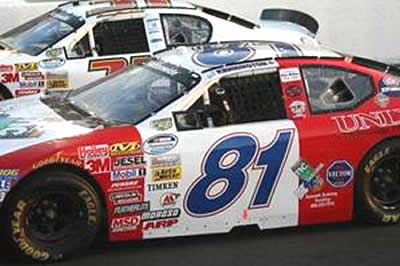 The familiar red, white and blue paint scheme on Kennington's #81 Dodge will be sporting some special alterations this weekend. "We are doing a charity deal for St. Jude Children's Hospital in Memphis. A child who's a patient there designed our car specifically for this race. The special paint scheme will be on the car. I can't wait to see his reaction." Kennington will be at St. Jude Children's Hospital on Thursday. He'll be on the track for two practice sessions in his new-look race car Friday. The Kroger "On Track for the Cure" 250 race goes Saturday afternoon.
KROGER 'ON TRACK FOR THE CURE' 250
>Friday, October 24th
Practice Session #1 – 11:30AM (Edmonton time)
Practice Session #2 – 1:30PM (Edmonton time)

>Saturday October 25th
Qualifying – 7:35AM (Edmonton time)
RACE – 12:30PM (Edmonton time)
UPDATE: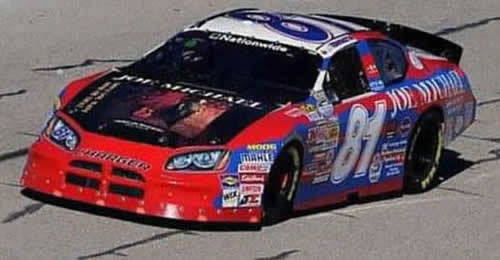 Driving the special St Jude Childrens Hospital themed race car, DJ Kennington finishes 20th at Memphis Motorsports Park. Kennington was one of 6 drivers to have their paint scheme designed by young patients at St. Jude Childrens Hospital in Memphis, Tennessee.