NPP DRIVERS BRING HOME THE HARDWARE
DEVON, AB – The Northern Provincial Pipelines Ltd. Late Model Series officially wrapped up its 8th consecutive season Saturday night (Nov 1st). NPP race teams joined teams from other racing divisions at the 2008 Castrol Raceway Championship Awards banquet. The fall gala was held at the Devon Community Center in Devon Alberta about a 10 minute drive from the track site. Stony Plain, Alberta's Mike Tom was first to the podium to collect his third place trophy. Edson, Alberta's Crystal Kennedy accepted the second place trophy on behalf of her father Dwight Kennedy who could not attend the banquet due work commitments at NPP.
Okotoks Alberta's Brian McCaughan collected his season championship trophy plus rookie of the year hardware. It's the second time in McCaughans racing career he has been a rookie and season champion in the same year. He accomplished the same feat in the early 1990's (93?) at Bridge County Raceway in Lethbridge, Alberta.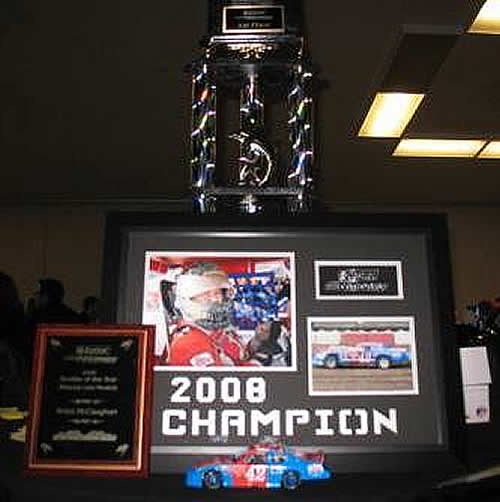 Special congratulations to Ardrossan, Alberta's Wade Fleming as he piloted the Northern Provincial Pipeline Ltd. sponsored #7 Sprint Car to his 8th Castrol Raceway track championship.

Northern Provincial Pipelines Ltd. also took time at Saturday night's awards ceremony to honor all the female race car drivers that competed at Castrol Raceway on a regular basis in 2008. It's a unique award that NPP started several years ago. The 2008 trophy presentation was made to the largest group of female race car drivers in Castrol Raceway track history.

Jenna Chalmers – Sportsman Sprint Car
Danielle Clark – Bud Stock
Crystal Kennedy – NPP Late Model
Jessica Lavalee – Sportsman Sprint Car
Karalynn Miller – Sportsman Sprint Car
Kelly Stewart – NPP Late Model