EDMONTON, AB. – The 2013 Season Opening weekend of the Northern Provincial Pipelines Late Model Series has come to a sudden and screeching stop. On Friday afternoon, track officials at Central Alberta Raceways cancelled Sunday's scheduled race event due to wet facility conditions. In a surprise announcement Saturday morning, NPP Series official Gord Craig, stopping short of cancelling the NPP Series event in Edmonton, indicated that Saturday nights race would be turned into a open and optional test 'n' tune. After the weather cancellation of the Rimbey event, Craig sensed that there could be a car count problem for the race in Edmonton. "I was a little worried about the car count after Rimbey pulled the pin," says Craig, "to be honest I was actually more worried about the weather."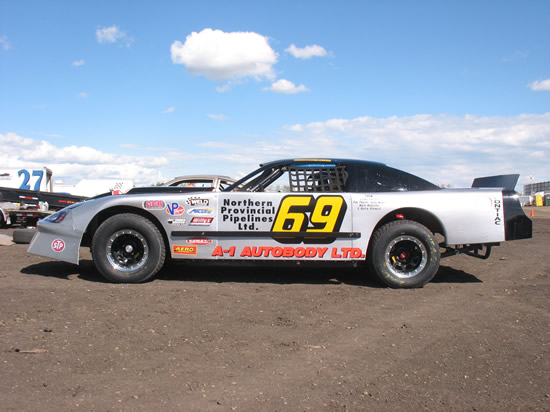 NPP Series teams welcomed the opportunity to shake down their race cars. "We've had the car for a few months and I haven't even been on the track with it yet." Mark Miller is a veteran pavement Late Model competitor from Calgary, Alberta. "After having two previous test 'n' tunes cancelled due to weather, I finally got a little bit of seat time." The NPP Series Rookie of the Year contender made his first ever laps on the dirt in his A-1 Auto Body #69 Pontiac. Unfortunately for Miller and all other competitors, a massive hail and rain storm cancelled Edmonton's race event less than two hours after the first green flag dropped.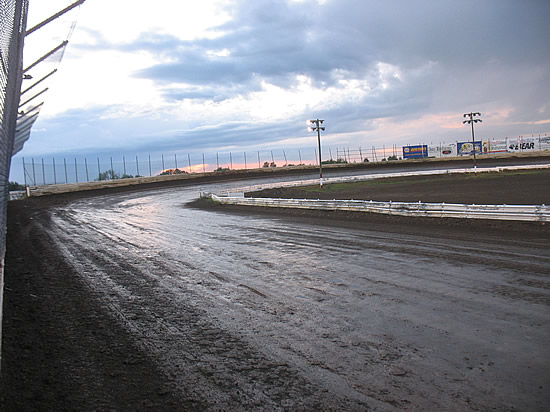 The Northern Provincial Pipelines Late Model Series returns to Central Alberta Raceways for a rain date on Saturday June 22nd. "It's pretty hard to find a track more accommodating to race teams than the track in Rimbey. Within a few hours of cancelling the race (on Friday), Rimbey officials created a race date for those affected by the rainout." The NPP Late Model Series will compete in Rimbey with the Sportsman Sprint Cars who also were affected by Sunday's rainout. The NPP Series then travels to Dinosaur Downs Speedway in Drumheller, Alberta for a two-day show with the IMCA Modifieds on the Canada Day long weekend.

TEST UPDATE: (June 8th @ 10:00pm) Race event started at 7:10pm or 1 hour 10 minutes late because of track preparation problems (track too dry). At 8:45pm rain mixed with hail began to fall forcing Edmonton track officials to cancel race action for the rest of the night (track too wet). The NPP Series had a total of 12 laps of testing.