PHOENIX, AZ – No matter where he finishes on November 13th, two-time Canadian NASCAR Series Champion DJ Kennington will be able to say that he has raced against the best stock car drivers in the world. Kennington, from St. Thomas, Ontario, makes his NASCAR Sprint Cup debut at Phoenix International Raceway driving the Northern Provincial Pipelines Ltd./Clark Construction #55 Chevrolet. The race car is based out of the Premium Motorsports shop in Huntersville, North Carolina.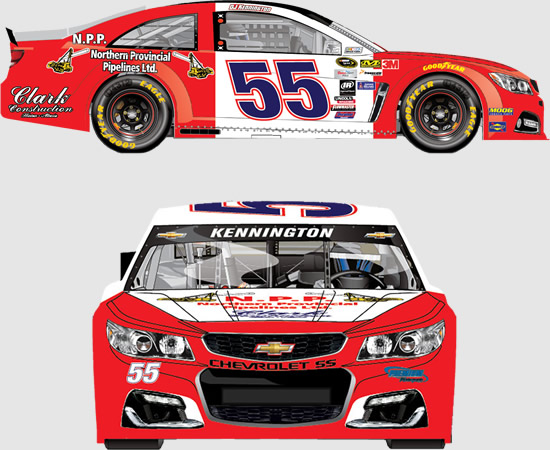 "They offered me a shot at the Cup car (in Phoenix) after I ran their truck at Canadian Tire Motorsports Park back in September." Kennington finished 14th in the NASCAR Camping World Truck Series race at the Bowmanville, Ontario track. On October 30th, again driving for Premium Motorsports, Kennington finished 23rd in the truck race at Martinsville Speedway. "To get an opportunity to compete in a Cup race is a chance of a lifetime. It's a dream come true for me." With 49 NASCAR XFinity Series race starts, Kennington is no stranger to competing south of the border. "The only track on the NASCAR circuit we've haven't raced is Pocono. I have a lot of track time in Phoenix which is good but I have spent absolutely zero time in a Cup car." His first time on the track in a NASCAR Sprint Cup Series race car will be Friday, November 11th. "I'm only going to have about an hour of practice before we have to go qualify."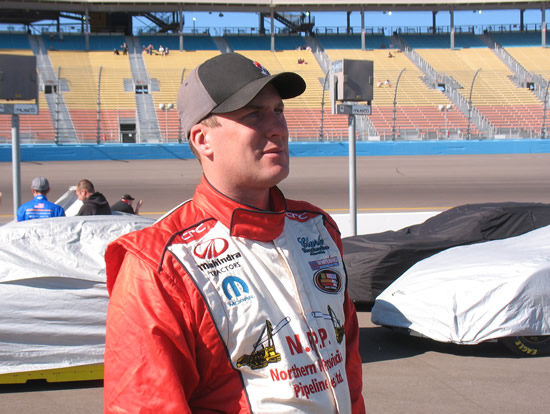 "The practice (before qualifying) will probably work out to maybe about thirty laps." Right now 40 cars are registered for the Phoenix event. "Just to be able to be there with the likes of Kyle Busch and Jimmy Johnson is something else. It's a little intimidating. These guys are the best in the world." Kennington's family will be joining him at the track in Phoenix. "To have my family with me at this race is very special. I've been very fortunate to be able to meet people along the way that have helped me get to where I am today." Alberta business owners Dwight Kennedy (Northern Provincial Pipelines Ltd.) and Kevin Clark (Clark Construction) will be two people in attendance cheering Kennington on. Both Kennedy and Clark are making their NASCAR Sprint Cup Series debut as race car sponsors.

UPDATE: (November 10 @ 11:10am) – The race weekend for Canada's DJ Kennington at Phoenix International Raceway just got busier. Along with his debut in the NASCAR Sprint Cup Series the St. Thomas, Ontario driver will now compete in his 50th Xfinity Series race. This last minute announcement by Premium Motorsports has Kennington behind the wheel of the Wildhorse Transport #15 Ford Mustang on Saturday afternoon.

UPDATE: (November 11 @ 1:50pm) – Kenningtons first laps behind the wheel of a Sprint Cup car were cautious at PIR Friday. Kennington's best lap in practice on the 1 mile paved tri-oval was 27.994 seconds/128.599mph putting him 40th out of 40 cars entered. In the Xfinity Series practice session Friday afternoon, Kennington ran 28.214seconds/127.596mph which puts him 34th out of 43 cars.

UPDATE: (November 13 @ 3:59pm) – Kennington finished 35th in his NASCAR Sprint Cup Series debut at Phoenix International Raceway. On Saturday night Kennington finished 30th in the Xfinity Series.