MILLER VS KENNEDY IN 2015?
EDMONTON, AB – An epic North vs. South battle is brewing in the Northern Provincial Pipelines Late Model Series for the upcoming race season. Along with showing off their brand new paint schemes for the 2015 season, Mark Miller and Shawn Kennedy both displayed quiet confidence at Saturday's test 'n' tune in Edmonton. "We need to make a few more adjustments," says defending season champion Mark Miller, "other than that, we were pretty happy with the car in testing." The Calgary, Alberta driver knows that a bit of a target is on his back heading into 2015 and that a strong start to the new season is a must. "We've never been in this position before. Last year was our first ever season championship. My team is ready. We are really looking forward to the year." In his 2013 rookie season, Miller finished 9th in the NPP Late Model Series Championship point standings.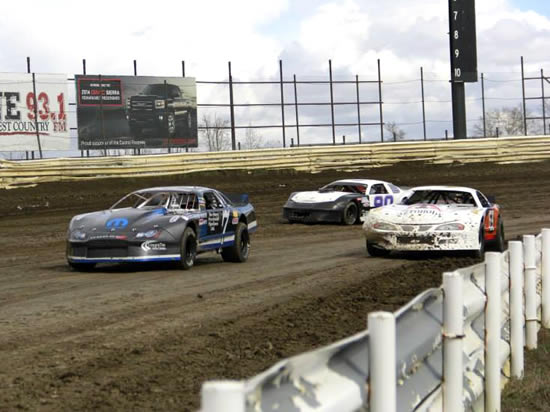 In 2014 it was Edson, Alberta's Shawn Kennedy that finished 9th in the NPP Series chase. "One of the big things that affected my season last year was that I was playing around so much on my car. At the end of the year I got the car close to where I wanted it to be." Last September, Kennedy grabbed a second place finish on the first night of NPP Series championship weekend in Rimbey, Alberta. "I'm not going to be doing so much experimenting this year," admits Kennedy, "I'm just going to go out and try to win." Kennedy says his weekend test 'n' tune session in Edmonton was not without its hiccups. "We bent up a control arm on our last on-track session. It's an easy repair. The car was really good up until that point. I expect to have a pretty good season." The 15th consecutive season of the Northern Provincial Pipelines Late Model Series begins on May 23rd at Edmonton's Castrol Raceway.