MIDGLEY ENDS FEATURE WIN DROUGHT
LETHBRIDGE, AB – The 2009 NPP Late Model Series kicked off its 9th incredible season at Bridge County Raceway in Lethbridge, Alberta Saturday night with Darrell Midgley ending a lengthy winless streak. There was no question that the NPP Series veteran would visit victory lane again but even Midgley was beginning to wonder out loud when the ongoing dry spell would end. "Getting a win in this series is extremely tough," says Midgley, who's last NPP Feature win came on July 14th, 2006. "its sure been a while since I've been able to hold that checkered flag." After his 2006 victory, the Sidney BC driver would come close in the many Features run. In 26 races, Midgley scored 17 top 10 finishes which included five runner-ups and four third place finishes. "This was a well earned win that's for sure considering what happened to us early in the race tonight (Saturday)." Midgley started on the outside of the front row but drove his #14 Lucas Oil Dodge out of the racing groove and dropped back nine spots to 11th before the first lap was even completed. "It was a frustating feeling seeing all the cars go by me but what can you do." Only four yellow flags flew in the 30 lap Feature. Midgley fought his way back to the front and with under 5 laps to go took over the lead from pole sitter Kevin Clark.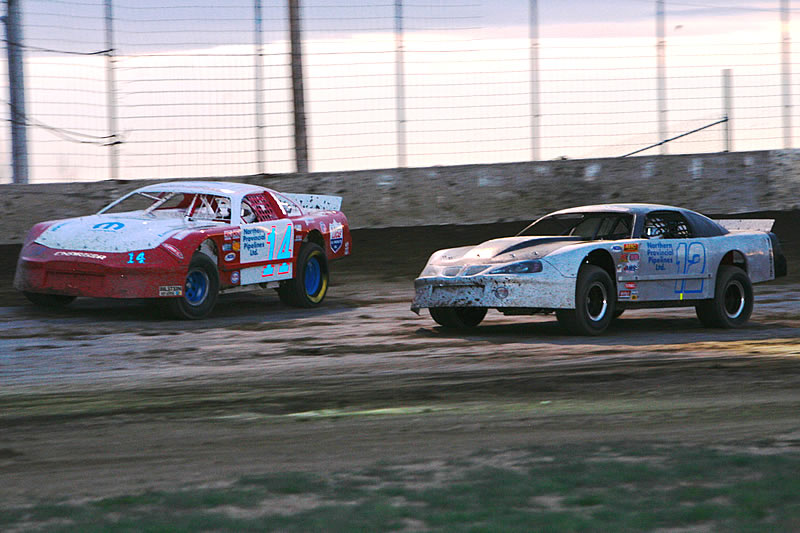 "Its a good start to the season," says Midgley, "hope to keep this going for awhile." Kevin Clark held on to the lead for more than half the race but had the handling go away toward the end of the Feature. Clark would finish third in his Clark Construction #5 Dodge while Rod Wilde, filling in for NPP Series regular Paul Grundberg, would finish second in the Carlan Services #12 Pontiac. Dry track conditions may have cost two-time NPP Series Champion Dwight Kennedy a podium finish. Kennedy ran in the top 3 for most of Saturday nights Feature. The Edson Alberta driver made a brief charge for the lead with just a few laps remaining only to fall back seven spots to 8th. "Couldn't see through the dust," says Kennedy, "there was some driver error on my part too but what are you going to do." Kennedy however was still pleased with his performance despite the late race stumble. Three-time NPP Series Champion Trevor Emond was running 7th when he had a right rear tire go down just past the halfway point of the race. The Leduc Alberta driver would spend the last half of the Feature working his way from the back to the front and ended up 5th behind Campbell River BC's Jason Beaulieu. Rounding out the top 10. Mike Tom, Ken Clark, Chris Beaulieu and Crystal Kennedy.