McCAUGHAN WINS FIRST NPP SERIES FEATURE
RIMBEY, AB – For the second time this season the Northern Provincial Pipelines Late Model Series has a first-time Feature winner. Rookie driver Brian McCaughan drove his Lucas Oil/A-Men Contracting #42 Dodge to victory lane Saturday night at Central Alberta Raceway's. "It was one of those tracks where you had to be on the ball," says the Okotoks, Alberta driver, "there was no forgiveness out there. You hit it wrong (corners) and you bust parts. It was a race where you had to be conservative and go hard when you could." Track conditions remained very tacky throughout the event with no major dry-slick issues. The front and back straights remained smooth but the corners developed some nasty ruts about ten laps into the Feature. "You had to plan out the corners. I knew a few of them (other drivers) were coming at me hard," adds McCaughan, "I did not have the fastest car on the track tonight but I still managed to hold on for the win."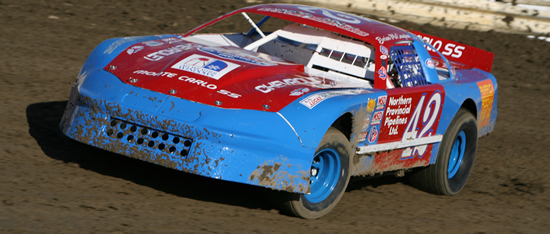 On this night, Stony Plain Alberta's Mike Tom and Whitecourt, Alberta's Paul Grundberg were several NPP drivers that clearly had the faster cars. The tricky ruts in the corners would both directly and indirectly bring their challenge for the lead to an end. After storming from the back to fourth, Dan Stewart's #01 Dodge hit a rut in turn 3/4 and was launched into the side of Grundberg's #19 Pontiac. Grundberg, who was running third, had his left rear tire punctured. Stewart was able to continue but Grundberg, who was aiming for his second Feature win of the season, would finish the night in ninth. Several laps later Tom would try a high side pass on McCaughan down the back straight when the suspension on his front right tire collapsed. "I guess there is only so much pounding the suspension could take," sighs the driver of the #55 Chevrolet, "we were running such a good race and to have this happen. It's too bad." In his last four Features, Tom had registered a second, third, fourth and a win. Tom would be credited with a 12th place finish in Rimbey. A two-car crash marred lap 20 of Saturday's Feature. Two Edson, Alberta drivers were involved.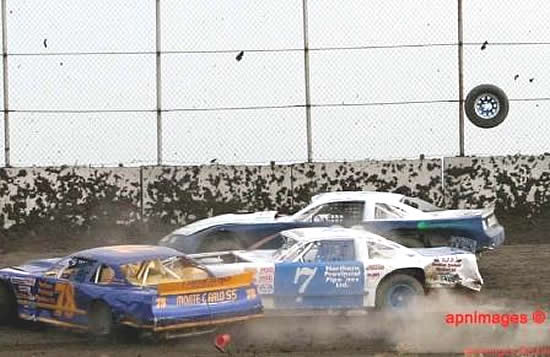 While running in fourth, Ken Clark would spin in the middle of turn one/two after the left rear tire of his car fell off. Shawn Kennedy drove into the side of Clark at nearly full throttle. "I had no where to go," says Kennedy, "I saw the tire wobbling the last few laps but never expected it to fly off."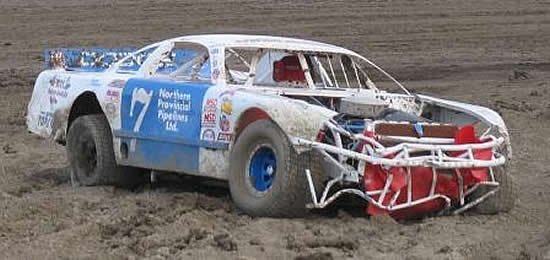 For the final five laps, Seba Beach Alberta's Dan Stewart would successfully hold off Campbell River BC's Chris Beaulieu and finish second. Beaulieu was filling in for his father Jason who was racing his dirt modified in Elma, Washington. "Pretty pleased with third," says the 'fill in' driver of the #46 All Weather Windows Dodge, "it's only my sixth time on dirt. You really had to pick and choose your lines carefully. You pick the wrong one and it could cost you a race. We just wanted to play it smart, take our time and it worked."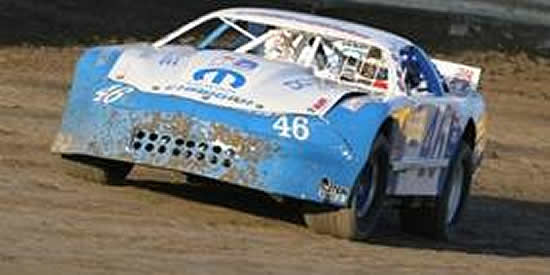 Stewarts second place finish in his Rockhard Contractors sponsored #01 Dodge was his best finish since a fifth place showing in July of 2007. "We had bad luck at the beginning tonight with two flat tires," says the Seba Beach Alberta driver, "but we persevered and fought back." Stewart sits seventh in the NPP Points chase just 70 points out of the top five.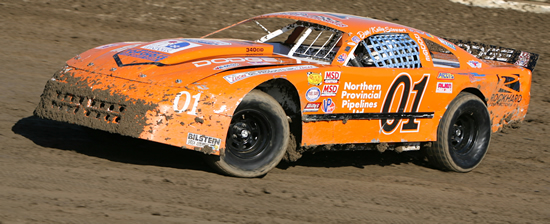 After running as high as fifth in the Feature, current NPP Series point leader Dwight Kennedy finished 7th. The two-time champion leaves Rimbey with just a 3 point lead heading into the next race event at Rocky Mountain Raceway Park. "Ironically the 'B' Dash saved us tonight (Saturday)," indicates the driver of the #81 Lucas Oil Dodge, "this 'B' Dash has been a bit of a curse to me lately but if the #46 made it to the 'A' I would be second in points right now." Both Kennedy and Beaulieu failed to crack the top 4 in their qualifying Heats which were won by Curtis Moore, Mike Tom and Pat Fines. Kevin Wheeler won his second consecutive 'B' Dash event.

Next race for NPP Late Model Series race teams is the final Southern Alberta road trip of the season. Its also back to where the 2008 season began. Rocky Mountain Raceway Park, between Okotoks and High River, Alberta, hosts the NPP Series for the second time this season.

NPP PIT BITS
– Dan Stewart, who finished second in Rimbey, announced in victory lane that he and his wife Kelly are expecting their first child.
– Brian McCaughan joins Paul Grundberg as first time feature winners in an NPP Late Model this season.
– Shawn Kennedys heat race winning streak at Central Alberta Raceways was halted at three. The Edson Alberta driver was the winner of his heat races in Rimbey in 2005, 2006 and 2007. Kennedy finished second in his heat Saturday.
– Pat Fines now has a heat race winning streak. Fines won a heat race in his rookie season in Rimbey last year. Fines won his heat race Saturday night.
– Current point leader Dwight Kennedy ran his fourth consecutive 'B' Dash event in Rimbey.
– Never in the history of the NPP Late Model Series has the points chase between first and second been this close. Three points separates first and second.
– Wayne Gideon left a business conference in Calgary early to compete in Rimbey. The Edson Alberta drivers blow's a motor in hot laps in his #99 Dodge.
– Three-time NPP Season Champion Trevor Emond was guest driver of the NPP Dodge Charger pace car Saturday night.
– Racing his #90 Dirt Modified Saturday night (July 26th), defending NPP Season Champion Jason Beaulieu wins first ever Feature in Elma Washington Saturday night.