AVONDALE, AZ – The winter hibernation for Canada's DJ Kennington comes to an end this Friday and Saturday in Arizona. The St. Thomas, Ontario driver straps himself behind the wheel of the Northern Provincial Pipelines Ltd. sponsored #13 Dodge at Phoenix International Raceway. Kennington will attempt to qualify for the Axalta Faster. Tougher. Brighter 200. This will be the 54th time that Kennington has entered a NASCAR Xfinity Series event since 2006. "The car should be getting wrapped as I speak," exclaims the two-time NASCAR Canadian Pinty's Series driver, "can't wait to get back on the track!" The car will be transformed from its current orange and black color to the more familiar red and white color scheme.
It's been four seasons since Kennington last competed in the NASCAR Xfinity Series. "I definitely want to do better than my last appearance." Kennington was credited with a 33rd place finish in Phoenix after blowing a tire and smacking the wall on November 11th, 2011. Kennington's best Phoenix XFinity Series competition, was 22nd back in November of 2008. His best ever Xfinity Series finish was on the road course in Montreal in 2010 when he finished 11th.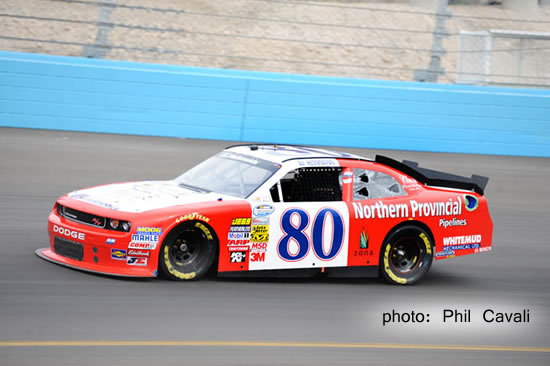 Despite no recent Xfinity Series activity, Kennington has been racing in select NASCAR K & N Series events the past five seasons. He's registered six Top 10 finishes at Phoenix International Raceway since 2011. Kennington finished 9th at his last K & N Series appearance at PIR back in November. "There is a big difference between the K & N cars and the Xfinity cars," adds Kennington, "I'm just pleased that there is an extra practice session here in Phoenix. I'll definitely be taking advantage of the extra track time." There are three practice session scheduled for Friday, March 11th. Qualifying and the big race takes place Saturday, March 12th. The race car Kennington will drive is based out of the MBM Motorsports shop in North Carolina. NASCAR veteran Carl Long is co-owner of the team and will also be competing in his #40 Dodge this weekend. Joey Logano is the defending event champion. Kyle Busch has won this event 5 times including back to back wins in 2013 and 2014.