KENNEDY GETS SCHOOLED ON HOME TRACK
EDMONTON, AB – It was October 2008, Northern Provincial Pipelines Late Model Series competitor Crystal Kennedy attended the Jimmy Sills racing school down in Marysville, California. The impact of the school was immediately seen in her on track performance during the 2009 race season. In 2008, Kennedy finished out of the top-ten eleven times and finished fourteenth in the NPP Late Model Series point standings. In 2009, Kennedy finished out of the top-ten just three times and finished eighth in NPP Series points. Kennedy also had two top-five finishes including her first ever podium finish (3rd) this past season.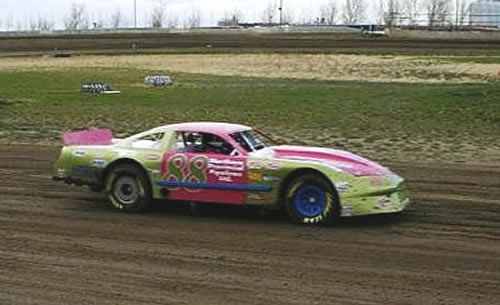 "This was my best season ever," exclaims the driver of the Edson Top Choice Autobody #88 Dodge, "I gained a lot of confidence this season that's for sure." When Kennedy heard that the Jimmy Sills racing school was coming to her home track, she jumped at the opportunity for a refresher course. Kennedy, joined sprint car drivers, Casey Adams, Trevor Turnbull, Karalyn Miller and David Miller at Edmonton's Castrol Raceway Saturday and Sunday September 26th and 27th. "I have had problems racing on my home track," admits Kennedy, "with the race school coming here maybe I can learn something new." Day 1 of the Jimmy Sills racing school was spent in a classroom setting. Day 2 of the school was spent on Castrol Raceway's 3/8 mile oval. "I really want to thank Darcy and Jenna Chalmers for allowing me the use of their sprint car for the weekend." Kennedy had six on track sessions Sunday afternoon in the Cimmaron Ventures #8 Sprint Car.
"For some reason, I've had problems going into the corners here (Edmonton)," indicates Kennedy, "part of the on-track sessions involved driving the race car deeper into the corners." It was a little unnerving at first for Kennedy. "It took some getting used too but Jimmy (Sills) made it known to everyone that you have to trust the car to do what it's supposed to do." Kennedy called the weekend a success and hopes that the refresher course improves her home-track performance in 2010. She unfortunately will have to wait about 8 months to put the new knowledge of Castrol Raceway's oval track to the test in her NPP Late Model. The first appearance in Edmonton of the Northern Provincial Pipelines Late Model Series tentatively won't take place until the middle of June.