EDSON, AB – Family has been an integral part of the Northern Provincial Pipelines Late Model Series since its first official season back in 2001. Larry and Earl Simpson were the first brothers to compete in the NPP Series in 2001 and finish top 10 in points. The 2004 season saw Gerry and Trevor Emond becoming the first father and son to finish top 10 in the NPP Series Championship points chase. In 2009 Dwight and Crystal Kennedy finished in the top 10, becoming the first father and daughter to accomplish this feat in the NPP Series. When the checkered flag flew ending the 2013 race season, the NPP Late Model Series would see yet another first. NPP Series founder Dwight Kennedy, along with son Shawn and daughter Crystal, finished in the top 10. This marked the very first time that three members of the same racing family would achieved a top 10 finish in the hard fought NPP Series points chase. "It's been fun racing against my kids," says Dwight Kennedy, "they are very competitive. Looking forward to racing against them again this year." The 2014 race season is Kennedy's 25th consecutive year involved in motorsports as a driver, team owner and sponsor. "It's been that long has it?" says the Edson, Alberta driver with a chuckle, "I think I've got a few more years behind the wheel still."

The two-time NPP Late Model Series champion finished 5th in points in 2013. "We had a pretty good season last year. It's not as good as I wanted but what can you do." Kennedy is adamant that he wants a strong start to the 2014 season. "The first two races of last season were not good for us [finished 11th and 7th]. We can't do that again this year. A win to kick off the season would sure be nice." Central Alberta Raceways hosts the 2014 season opener of the NPP Late Model Series the end of the month. Dwight Kennedy has one Feature win and an average Feature finish of 5.75 at the Rimbey, Alberta track since it opened back in 2005.
Shawn and Crystal, Kennedy's son and daughter, continue their individual preparations for the upcoming 2014 race season. Shawn Kennedy is coming of his best ever season ever in the NPP Late Model Series with a second place finish in the championship point standings. "I surprised myself to be quite honest. I drove with more confidence which definitely helped. It felt real good." Kennedy's previous best NPP Series points finish was 5th back in 2006. Kennedy credits his successful season on a new approach towards racing. "I'm trying to focus on what I'm doing on the track rather than what everyone else is doing. I had more hands on experience with the car last season. Setting up the car the way I wanted it helped as well."
Kennedy had an average Feature finish of 5.2 last season. "I'm going to be trying some new stuff regarding the car set up this year. I don't think it's been tried before. The first race in Rimbey will be a major testing ground for me." Kennedy has three heat race wins and one pole position at Central Alberta Raceways. His best Feature finish was second at the NPP Late Model Series 2006 season opener. "I haven't run in Rimbey since 2008 [finished 15th]. A lot has changed. Can't wait to go back." Shawn Kennedy is also anxiously awaiting the opportunity to race against his father and sister. "It's always good to spend some time away from work and go racing. It's a bit of a stress reliever. I like racing against my dad especially when I do better than him."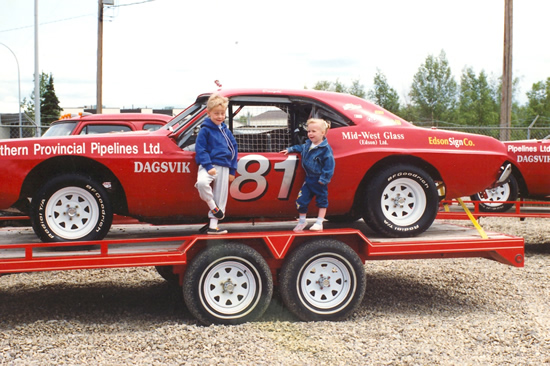 Crystal Kennedy can't wait to get back to the track this season and compete against her dad and brother. "I was six months old when my dad started racing," admits Crystal Kennedy who turns twenty-five this summer, "I've always been around race cars. It's a part of my life." Kennedy indicates she races her brother and dad a little bit differently than other competitors on the track. "I think I'm a bit more competitive when around them. I know I don't like it when my dad beats me." Crystal finished ahead of her father twice in Feature events last season. "My brother is a little bit more crazy [behind the wheel] but I managed to finish ahead of him a few times last year too." Crystal Kennedy finished the 2013 season sixth in points.

"I wanted a top five so bad last year but it so much harder to gain positions the higher you get in the standings. Moving from say eleventh to ninth [in points] is not the same as moving from sixth to fourth." Kennedy wants a strong opening night in Rimbey. "This track has been fairly good to me. It's a night race so that will make for better track conditions." Kennedy has two top 10 finishes at Central Alberta Raceways. "We finished 8th in our last race there." Crystal Kennedy participated at the 'open' test 'n' tune at Edmonton's Castrol Raceway earlier this month [May 10th]. She posted the fastest lap time in one of the NPP Series on-track sessions. "I think that little extra track time will pay off huge at our first race of the year."

The 14th consecutive season of the Northern Provincial Pipelines Late Model Series kicks off at Central Alberta Raceways on May 31st. The Rimbey, Alberta track is celebrating its 10th season of Oval racing this year.