EDMONTON, AB. – Mike Tom won his fourth consecutive Northern Provincial Pipelines Late Model Series Feature event at Saturday nights Gold Cup event at Edmonton's Castrol Raceway. "Winning two in a row in this series is tough, everyone that races this series knows this. There are just so many competitive teams, so it's incredible to be in this position." The last NPP Series driver to win four consecutive NPP Series Feature events was Trevor Emond during the 2003 season. "We had the setup right and luck was on our side again tonight. You will not win a race in this series without a little bit of good luck." The luck the driver of the Hinton Oilfield Services #55 Chevrolet is referring to came from the bad luck of veteran racer Kelvin Bell. "Kelvin easily had the fastest car tonight and we inherited the lead when he spun. We've lost races this way before and it's just part of the game."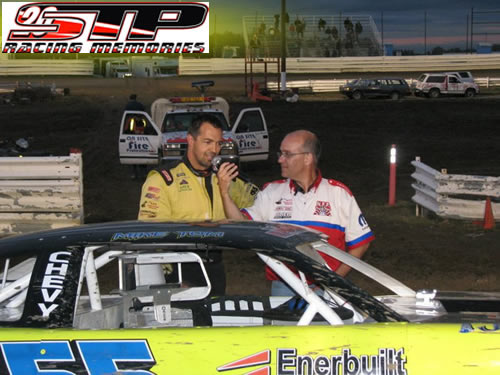 Veteran racer Kelvin Bell, filling in for Darrell Midgley, was looking for a rare event sweep in Edmonton. The Hardisty, Alberta driver hadn't been behind the wheel of a race car in almost three seasons. Bell drove the Lucas Oil #14 Dodge to a Heat race win and then won the 'A' Dash which gave him the pole position for the Feature. "I was feeling pretty comfortable in the Feature and started to gas it a little more to get the car quicker out of the corners. Then away it went." Bell went to the back of the pack for the restart and fought his way back to third when the checkered flag flew. "I had a lot of fun tonight."

Altario, Alberta's Kevin Clark finished second in the Feature and says he did all he could to try and get by Tom. "I was working him hard for the first 10 laps but it's one thing to catch a guy. It's another thing to try and pass him. Mike ran a very good race." With the Feature win, Tom expands his Championship points lead over second place Dwight Kennedy by 53 points. Kennedy finished 5th in the Feature after running as high as second. Radiator fluid began spraying into the cockpit of his race car which was damaged in the 'A' Dash. After running out of tear-offs and with visibility becoming an issue, Kennedy was forced to ease off the throttle. Whitecourt Alberta's Kevin Wheeler finished the Feature in 4th and is just 11 points back of Kennedy. Next scheduled race for the Northern Provincial Pipelines Late Model Series is Saturday, August 20th at Edmonton's Castrol Raceway.
NPP RACE NOTES:
– Mike Tom's current winning streak began at the 2010 Oilmen's Classic race in Edmonton last August.
– Kevin Clark's 2nd place finish on Saturday night in his Clark Construction #5 Dodge was his best finish since his 4th place finish on September 19th, 2009.
– scary moment in the 'A' Dash when two-time NPP Series Champion Dwight Kennedy slammed the back straight wall. The dash was red flagged as an ambulance was called to the scene. Kennedy emerged from his race car about 10 minutes later.
– 3x NPP Series Champion Trevor Emond was special guest driver of the NPP Series Pace car on Saturday night.
– Burlington, Washington's Jason Solwold won the 2011 Gold Cup in his Extreme Oilfield/Northern Provincial Pipelines sponsored Sprint Car. Solwold is the only 4-time winner of the Gold Cup since it was first run in Edmonton back in 1954.