EDMONTON, AB – Northern Provincial Pipelines Late Model Series race teams hope this is a sign of better times ahead at Edmonton's Castrol Raceway. The Stock Car class, which was cancelled by Castrol Raceway officials due to a dwindling car count, is poised to return after a two-year hiatus. An energetic group of competitors gathered at a west Edmonton sports bar Sunday afternoon to discuss the olive branch being offered by the track. Former Stock Car racer Kary Rogers was one of two NPP Late Model Series competitors at Sunday's meeting offering up support. "I have a buddy that wants to get involved in racing," says Rogers, "I am here to support my friend and for a class that hasn't raced at Castrol [Raceway] in two years." Rogers spent many seasons behind the wheel of a Stock Car in Edmonton finishing as high as second in points in 2002. "I got started in the Stock Car class. Many people get their first taste of racing in this class."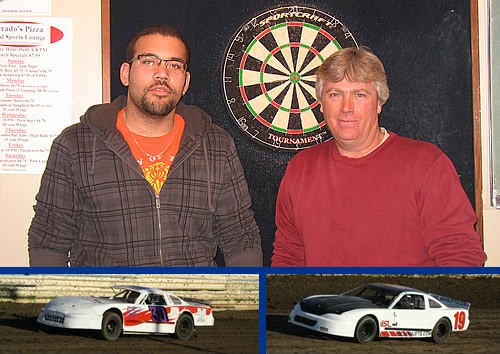 Curtis Ellis, the 2011 NPP Late Model Series Rookie of the Year agrees with his fellow competitor. "I want to see this class grow. The return of this class will benefit the NPP Series in the long run. It's a great place to start out and it doesn't have to be a full-out race car which has the added expense that goes with it." The last time the Stock Car class competed at Castrol Raceway was September 19th, 2009. Just four cars showed up. Back in the 1990's the Stock Car class was consistently Castrol Raceways (then called Capital Raceway) largest class with over 20 cars taking the green flag every Feature event.
"I think we can see this number of cars again real soon," says 1997 and 1999 Edmonton Stock Car champion Doug Worsfold, who organized and chaired the meeting, "I'm very happy with the turnout today. We got a confirmation from 15 drivers to race in Edmonton." Worsfold adds the numbers will be higher. "Several people who couldn't come to today's meeting contacted me already to say that they are racing this season as well." For the first time since 2009, both NPP Late Models and Stock Cars will be seen in the Castrol Raceway pits at the 2012 Test 'n' Tune on Saturday, April 28th.