FEATURE WINS FOR MILLER AND MIDGLEY
RIMBEY, AB – Northern Provincial Pipelines Late Model Series champions Mark Miller and Darrell Midgley each grabbed a Feature win at Central Alberta Raceways on the weekend. Miller, the 2014 NPP Series Champion, won the 2016 season opener on Friday night. Midgley, the two-time and defending NPP Series Champion, drove to victory lane Saturday night. Thanks to winning Heat races both nights, Midgley emerged from the Rimbey, Alberta race weekend as the early season points leader. "I wasn't very good Friday night," admits the Sidney, British Columbia driver, "the car was just fine, I just messed up so I gotta own that. We just came back Saturday night and got it done." Midgley spun early in the Friday night Feature event and spent the rest of the race playing catch-up. There was a little bit of consolation for Midgley Friday night. His Integra Tire (Edson) #14 Dodge was the fastest car on the track posting the sixth quickest lap time in NPP Series history with a 17.03. "Friday night was a real heavy track," adds Midgley, "it was all about speed and carrying your momentum through the corners. Saturday night, it was finesse. Float the car in (to the corners) and pretend you had an egg under the throttle." Midgley has won four of the last eight Feature events competed at Central Alberta Raceways.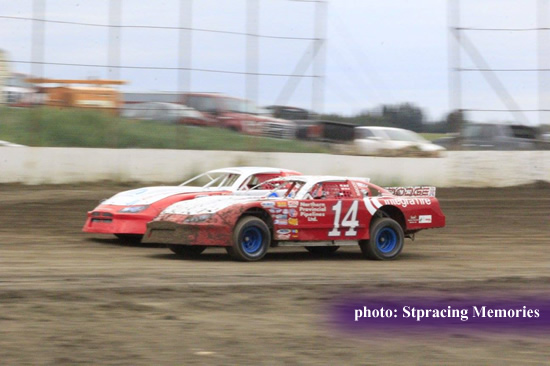 Mark Miller sits second in the NPP Series Championship points chase after the season opening weekend. Miller opened the season with a Feature win Friday night and a fourth place finish Saturday night. "Every year we've started off fairly slow, so this is definitely nice to start off (the season) with a Feature win." The handling of the A1 Autobody #69 Chevrolet was suspect at times on opening night. "The first two Heat races we tried a setup that we've never done before. It wasn't too successful. Went back to what we know best and it worked well and we managed to get a win." Handling problems hampered the performance of Millers car once again on Saturday night something the team will address before the next race.
Bruce Broughton and Shawn Kennedy were the other Heat race winners from the season opening weekend. Both drivers also sat on the pole for the Friday and Saturday night Feature events. For Broughton it was the 5th time he's had pole position at the Rimbey track. Broughton was also the first NPP Series driver to have pole position at Central Alberta Raceways inaugural oval event back in 2005.