EDMONTON, AB. – With Canadian passports in hand several Northern Provincial Pipelines Late Model Series competitors are heading south of the border to take in the action at Phoenix International Raceway this weekend. The stars of the NASCAR Sprint Cup Series, Nationwide Series, Camping World Truck Series and the K&N Pro Series West will be competing on the one-mile oval. "Can't wait to get to the track," says Whitecourt, Alberta's Kevin Wheeler, "we've been going non-stop at work [KW Mechanical] since the summer so I'm looking at this as a break [from work] and a bit of a post-season celebration as well." Wheeler won his first-ever NPP Late Model Series Championship back in September. "It's going to be great to hear the sounds of racing again."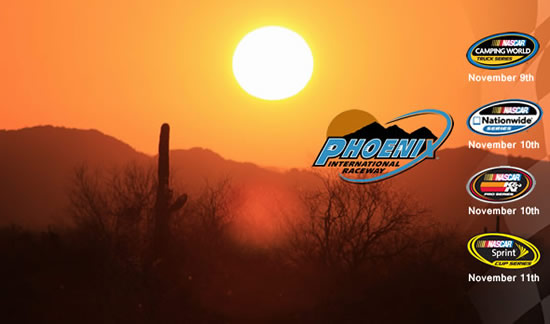 Other NPP Series competitors who will in attendance at the Arizona track are Kevin Clark, Jeff Grundberg, Dan Stewart and Dwight Kennedy. Current Nostalgia Nitro Funny Car racer Tim Boychuk will also be watching the action from the VIP corporate suite with his former NPP Series competitors. For Northern Provincial Pipelines Ltd. owner and president Dwight Kennedy, his annual motorsports pilgrimage to Arizona has been taking place for over 15 years. "It began when I was invited me to go watch a NASCAR race from the Link-Belt suite at the track. They sponsored a race car at the time and they knew I liked racing." With a guest list that totals more than 50 people, Whitemud Mechanical, owned by veteran Canadian racer Kevin Dowler and Northern Provincial Pipelines Ltd. are hosting the race weekend in the VIP corporate suite at Phoenix International Raceway.

NOTE: NASCAR Canadian Tire Series driver Noel Dowler made his NASCAR Nationwide Series debut at Phoenix International Raceway in the Prairie Tech Oilfield Services (Elk Point, Alberta) #41 Mustang. The Sherwood Park, Alberta driver finished 32nd after a late race crash. Dowler started 40th.