DESERT DNF'S FOR TEAM NPP
TUCSON, AZ – Both Brandon Carlson and Darrell Midgley had mechanical problems Sunday which forced early exits from Tucson Speedways 10th annual Chilly Willy 150.  Carlson was credited with a 19th place finish after pulling off the track just past lap-105.  Midgley was placed 21st after heading to the pits before lap-80.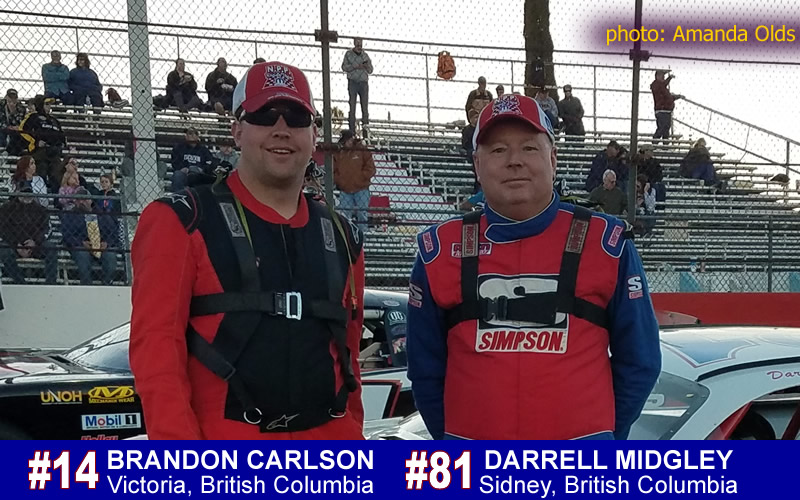 Carlson was extremely strong at the beginning of the Super Late Model Feature.  The Victoria, BC driver ran as high as 6th and spent the first 30-laps of the race running in the top-10.  "We had a good run going.  I was really happy with the car and biding our time (on the track)."  Unfortunately his Wickertree/Alien Race Cars #14 Chevrolet had other plans.  "Something in the steering system went amiss.  It started to shake around lap-25.  By lap-40 I could barely hang on to it."  Carlson dropped from 7th to 22nd in less than 15-laps.  "It was so bad I was just hanging onto the wheel.  I just wanted to nurse it to the halfway break thinking it was a tire but no luck."  Carlson's crew put new front tires on the car but the vibration got worse.  "I couldn't see out the front window my head was shaking so bad.  I decided to call it a day."  This was Carlson's first DNF at Tucson Speedway in 23 starts.  Carlson also had his top-10 consecutive finishing streak in the Arizona desert snapped at 6.
Darrell Midgley's race weekend had both highs and lows as well.  "We ran horrible on Friday night," exclaims Midgley, "on Saturday we actually switched cars (back-up car) and we picked up a little bit."  It was decided to run the back-up car again on Sunday.  For the first 30-laps in Sunday's Chilly Willy 150, Midgley held back.  Midgley then gradually  began squeezing more performance out of the Northern Provincial Pipelines/AMS Engines #81 Dodge.  "We had a really good car."  Midgley moved from his starting position (18th) up to 12th by lap-45.  Just past the halfway point of the race, the oil pump belt came off.  "Very frustrating but that's racing.  We didn't have a race winning car but we probably had a top-10 car.  We were in good shape to go the distance."
Both Midgley and Carlson ran preliminary Features on Friday and Saturday at Tucson Speedway.  On Saturday, Carlson celebrated his birthday with an 8th place finish in the 50-lap Qualifying Dual.  Carlson finished 10th in Fridays preliminary 50-lap Feature.  Midgley finished 12th and 9th in the same 50-lap Features.
Team NPP would like to congratulate Brighton Colorado's Preston Peltier for winning his 3rd Chilly Willy 150 at Tucson Speedway.
Next race for Team NPP is the Tucson Speedway 2023 Season Opener on Saturday, March 11th.  Darrell Midgley will not have an on-track team-mate at this race as Brandon Carlson will be crew chief for fellow Victoria, BC driver David Smith on Friday, March 10th at Phoenix International Raceway.  It's the ARCA Menards 2023 Season Opener.  Carlson hopes to be in Tucson Saturday, after the Phoenix race, to help out on the Team NPP crew.  His #14 Chevrolet will remain on the trailer.
TUCSON SPEEDWAY – Tucson, Arizona
> Sunday, February 5, 2023
1. #48 Preston Peltier – Brighton, Colorado  
2. #27 Kole Raz – Lake Oswego, Oregon
3. #13 Sean Hingorina – Newpart Coast, California
4. # 7 Zachary Riehl – Troutdale, Oregon
5. #18 Eddie Vacchiarelli – Brighton, Colorado
6. #22 Andy Allen – Garden Grove, California
7. #25 Brandon Farrington – Tucson, Arizona
8. #82 Michael Scott – Cheyenne, Wyoming
9.  #51 Steve Apel – West Bend, Wisconsin
10.#79 Barrett Polhemus – Wimberley,  Texas
11.#25 Kami York – Chicago, Illinois
12.#69 Zandar Peters – Graham, Washington
13.#32 Brett Yackey – Greeley, Colorado
14.#63 Joe Paladenic – Sierra Vista, Arizona
15.#12 Bruce Yackey – Greeley, Colorado
16.# 1 Kasey Kleyn – Quincy, Washington
17.#100 Tristan Swanson – Elko, Minnesota
18.#12 Brad Kossow – Union Grove, Wisconsin
19.#14 Brandon Carlson – Victoria, British Columbia
20.#98 Matt Barrett – Ballard, Utah
21.#81 Darrell Midgley – Sidney, British Columbia
22.#92 Jimmy Parker Jr. – Las Vegas, Nevada
23.#43 Cody Vanderwal – Lasalle, Colorado
24.#26 Dylan Jones – Vail, Arizona
25.#00 Kenny Bumbera – Sealy, Texas
26.#69 Bill Engle – Sahuarita, Arizona
27.#34 Rudy Vanderwal – Lasalle, Colorado
28.#57 Jennifer Hall – Tucson, Arizona
29.#16 Blake Williams –  Spokane, Washington
30.#47 Stephen Blankenship – Tenino, Washington