EDMONTON, AB – The Northern Provincial Pipelines Late Model Series kicks off its 9th incredible season of race action in Lethbridge, Alberta this May long weekend (Saturday, Sunday May 16 & 17). The Lucas Oil Slick Mist 2009 Season Opener at Bridge County Raceway marks the third year in a row that the first event of a NPP Championship season takes place in southern Alberta. With the current economic decline in Canada, several NPP Series race teams have had to scale back their racing operations for the upcoming season. Others will be racing even harder for the coveted NPP Series Championship. Leading up to the season opener, the official website of the NPP Late Model Series will be previewing the starting 'lineup' for the 2009 race season.
#80 CURTIS MOORE – Sherwood Park, Alberta
Watch for Curtis Moore and his Air Power Systems #80 Dodge to battle hard at the season opening weekend in Lethbridge, Alberta. "Just getting on the race track will be a good thing," smiles the Sherwood Park, Alberta driver, "we didn't have a test 'n' tune last year and that really hurt us at the season opening weekend (Saturday/Sunday) in Okotoks." Moore had engine problems on night number one and drive shaft problems on night number two. "We were pretty well dead last in points to begin the season. I do not want that to happen again this year."

Moore was third fastest at Castrol Raceways test 'n' tune earlier this month. "Car felt pretty good. Lets get the season going." Moore had 3 Heat race wins and 9 top-10 finishes in Feature race action in 2008. Moore also placed second in back to back Features last year in Okotoks and Lethbridge.
#78 KEN CLARK – Edson, Alberta
At the end of March, veteran racer Ken Clark was still unsure about weather or not to go racing in 2009. "You see it and hear it in the news everyday regarding the state of the economy," says Clark, "cutbacks and layoffs. It gets you wondering." At this point in time, Clark plans on running the entire 2009 NPP season. "I will re-evaluate things after the Oilmen's in August. I need a strong season this year and also I need to keep my car out of the shop."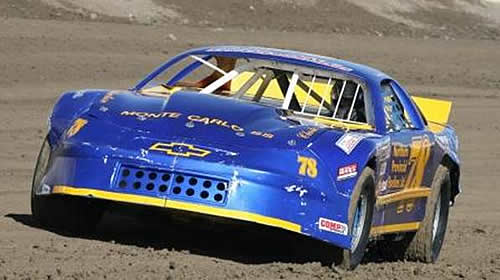 Clark was as high as 3rd in the NPP Series points chase last season but ended the 2008 season 15th in points after a few on track incidents plus two blown engines.
#61 BRUCE BROUGHTON – Spruce Grove, Alberta
This will be Bruce Broughton's fifth consecutive season in the NPP Late Model Series. The Spruce Grove Alberta driver led all Series teams last season with 9 Heat race victories. Broughton was also the first NPP driver to win a heat race on American soil. He also won his fourth Feature event since grabbing the NPP Rookie of the Year honors back in 2005.
The driver of the MDM Foundation/Fraser Brothers Roofing sponsored #61 Chevrolet ran as high as 7th in the 2008 NPP Series Points chase and finished the season in 12th.