EDMONTON, AB – Kevin Clark had one of his best nights in NPP Late Model Series competition. The Altario, Alberta driver won his Qualifying Heat, the 'A' Dash and then held off a hard charge by defending NPP Season Champion Mike Tom to win Friday nights Feature in Edmonton. "I was just hanging on at the end", admits Clark, "I had the better car up high, he[Mike] had the better car down low that's for sure." Clark last went to victory lane in Edmonton on August 22nd, 2008. "That was some of the best side by side racing I've been involved in," says Clark, "I was doing everything I could just to stay ahead." Clark, who is running a limited season in 2012, sits 12th in the NPP Series Championship points chase. "That was fun. Looking forward to Saturday night."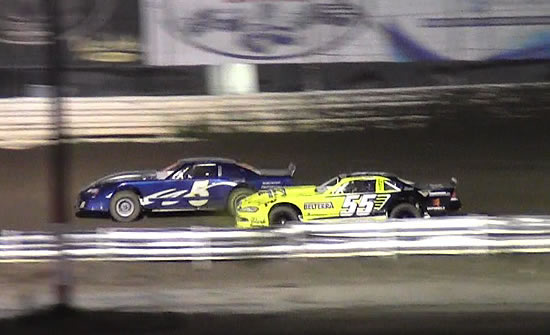 Defending NPP Series Champion Mike Tom would have liked to steal the win from Clark but was pleased with second. "We hummed and hawed about our set-up for the Feature," says the driver of the Jazzy Oilfield #55 Chevrolet, "we were just about the only car to stay on bottom the entire race. That's where we were passing cars." Passing cars on the bottom did get Tom into a little bit of hot water early in the Feature.
Tom received a rolled up black flag after spinning point leader Chris Beaulieu. "That was my fault completely," exclaims Tom, "I was working on the #3 car and was too hot going into turn one and hit the back end of the #90. So I will be having a chat with him [Chris] to apologize." The second place finish in the Feature moved the Stony Plain, Alberta driver from fourth to second in NPP Series Championship points. Tom wasn't the only driver to see his position change in the NPP Series point standings after race action Friday night. A fifth place finish in the Feature gave Whitecourt, Alberta's Kevin Wheeler the valuable points needed to move from third to second in the NPP Series points chase.
Edson, Alberta's Dwight Kennedy finished the Feature in third and moved back into the top five in the NPP Late Model Series standings. After his early race run-in with Mike Tom, Campbell River British Columbia's Chris Beaulieu finished the Friday night Feature in seventh but still managed to hang onto the NPP Series point lead. Last month, Bruce Broughton saw a dramatic rise in the point standings after his performance in Rimbey. The Spruce Grove, Alberta driver gave most of that huge gain back on Friday night dropping from second to third after a 8th place finish in the Feature.

Night #2 of the Gold Cup weekend in Edmonton featuring open wheel sprint cars and the NPP Late Model Series goes Saturday night July 21st.

NPP SERIES – THE INSIDE TRACK
– Clark is the seventh different NPP Series driver to win a Feature at a Gold Cup event since 2001.
– tough night for two NPP Series drivers; Sherwood Parks Curtis Moore and Whitecourt's Pete Head were forced to retire from the Feature early due to parts failure.
– Millet's Kary Rogers didn't even make it to the track with his car. His tow vehicle experienced mechanical problems.
– NPP Series driver Travis Day broke his ankle in a work related incident in Whitecourt and showed up at the track on crutches.
– Pavement and Kart racer Denver Foran made his NPP Series debut Friday night. The Spruce Grove, Alberta driver finished 11th in the Feature in his first-time ever on a dirt/clay race track.