EDSON, AB. – At just over 137,000 kilometers on the odometer, the original pace car of the Northern Provincial Pipelines Late Model Series has been retired. "It was an incredible promotional tool both on and off the race track," says NPP Series announcer Gord Craig, "not only was this car a daily driver it was the work horse of the Series that's for sure." The bright red Charger made its official 'on-track' debut at Lethbridge, Alberta's Bridge County Raceway in May of 2008.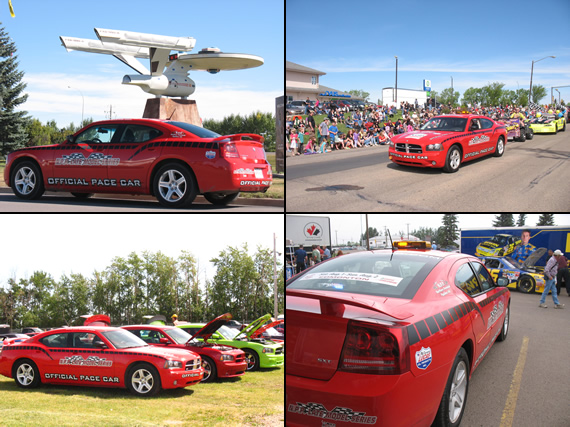 Although the NPP Series Pace Car spent much of its time on Alberta highways, several road trips took it through British Columbia into the State of Washington. One road trip took the NPP Series Pace Car to the California Redwoods. "It sure stood out," admits Craig, "a great billboard for the NPP Series and racing in general."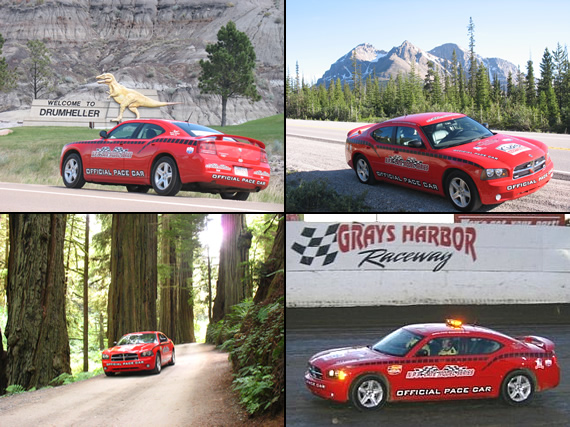 Despite the name on the side of the car, the pace car wasn't used exclusively for NPP Series race events. "Two years in a row the World Of Outlaws Sprint Car Series used our pace car when they visited Edmonton. That was pretty cool to see." The NPP Series Pace Car also spent some time on a frozen lake west of Edmonton at a Northern Alberta Sports Car Club ice race event. Leading race cars on the track was only part of the duties for the NPP Series Official Pace Car.

"We were in the Capital X Parade in downtown Edmonton twice," says Craig, "more than 750,00 people lined the streets of downtown Edmonton. You can't beat this kind of exposure." The NPP Series Pace Car was involved in several car shows as well.