BEAULIEU WINS SECOND FEATURE OF SEASON
EDMONTON, AB – The point chase in the Northern Provincial Pipelines Late Model Series is heating up as the halfway mark of the season approaches. Night number one of the Gold Cup (Friday) was rained out so the race weekend was turned into a one night show. Sherwood Park, Alberta's Curtis Moore (#80) and Edson, Alberta's Shawn Kennedy (# 7) each grabbed their first Heat race win of the season Saturday night. Spruce Grove Alberta's Bruce Broughton (#61) registered his third Heat race win of 2008. A wild heat race incident would see Whitecourt Alberta's Pat Fines hung up on the turn three/four wall. "The steering wheel popped off going into the corner," says Fines, "it was funny but scary at the same time. Here I am with the steering wheel in my one hand and desperately trying to turn the steering wheel shaft with my other hand."
Fines car was undamaged in the wall climbing incident and would win the 'B' Dash later in the evening. Saturday night's Feature saw four different drivers in the number one spot. 'A' Dash winner and pole sitter, Darrell Midgley would relinquish the lead on the very first lap to Bruce Broughton. Midgley would drop to fifth in the Lucas Oil #14 Dodge before fighting back and finishing the Feature in second. Broughton would give up the lead on lap 10 to Stony Plain Alberta's Mike Tom. The driver of the Hinton Oilfield Services #55 Chevrolet would hold onto top spot until a familiar name charged to the lead on lap 19. Campbell River BC's Jason Beaulieu got past Tom with six laps to go and drove on to his second Feature win of the season. "It was a really tough track tonight," says the driver of the #46 All Weather Windows Dodge, "I didn't know if I had enough for Mike Tom tonight but we had just enough power to get by the Chevy."
Beaulieu, who entered the race fourth in the point chase, moved past fellow British Columbia driver Darrell Midgley to third in the NPP Series standings. "It's been a hard fought battle this year," adds Beaulieu, "were turning it around and we are now moving in the right direction."

In the last three Feature events, Mike Tom has shown on track performances not seen since the 2005 season. The Stony Plain Alberta driver has a win, a fourth and now a third place finish. "I'm happy with third tonight," smiles Tom, "after the last couple of seasons (7 blown engines/crashes) we're having fun again." Tom felt the track going away near the end. "It's hard to say when your leading whether you're running the fastest line or not." At one point in the Feature, Tom had a commanding five car length lead. "We didn't win it but we did dominate most of the race. The guys (Midgley and Beaulieu) were coming on strong at the end and I couldn't hold them off."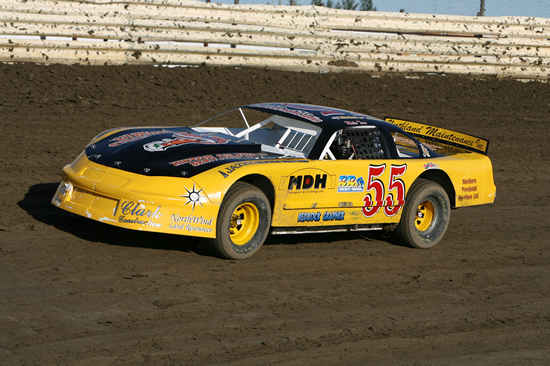 For current NPP Series point leader Dwight Kennedy Saturday night was one of the most frustrating race nights in recent memory. "Didn't finish in the top four of the heat race, then we were told to pit the race car in the dash for who knows what. Then we had a control arm break in the Feature." For the record, Kennedy was forced to pit for causing two yellow flags to fly in the 'B' Dash. "It's a good thing we had a bit of a cushion in the point standings heading into tonight's (Saturday) race we might have lost the lead too." Kennedy would be forced to start the Feature at the back of the pack. Kennedy would finish the night in 8th and would see his point lead shrink to 89 points over Brian McCaughan (#42). The Okotoks Alberta driver, who had an opportunity to take over the point lead Saturday night, finished fifth in the Feature. Kevin Clark (#5) moved back into the top 10 in points for the second time this season with a fourth place finish in the Feature. It was the Altario, Alberta driver's best outing of the season.

Race teams of the Northern Provincial Pipelines Late Model Series would like to congratulate Bellingham, Washington's Brock Lemley for winning the 2008 Gold Cup Sprint Car Championship Saturday night at Castrol Raceway. It was the American drivers first ever visit to Edmonton, Alberta.

Next race for NPP Series Late Model teams is at Bridge County Raceway in Lethbridge Alberta. This race is the official halfway point of the 2008 season.

BRIDGE COUNTY RACEWAY
Lethbridge, Alberta
> Saturday, July 19th

GATES @ 5:00PM
RACING @ 7:00PM

NPP PIT BITS
– Current NPP Series point leader Dwight Kennedy has not finished out of the top 10 in the 7 Feature race events run so far this season.
– Whitecourt Alberta's Paul Grundberg, who was the NPP Series point leader after winning his first ever Feature event the season opening weekend, has now registered back to back DNF's and has slipped to 8th in the standings.
– Rookie driver Brian McCaughan has grabbed a fifth and two third place finishes in the last three NPP Feature races.
– veteran driver Arvid Fonstad first NPP Series event of the season was short lived. The Entwistle, Alberta driver suffered race ending engine problems in his heat race (lap 5).
– after a brutal Oilmen's weekend (2 engines) Ken Clark finishes in the top 10 for the first time since his 3rd and 8th place finishes on the May long weekend.
– engine woes continue for St. Albert's Dan Snow who lost his third power plant of the season Saturday night.