BC DRIVER WINS DEFENDING CHAMP DQ'D
DRUMHELLER, AB – The Northern Provincial Pipelines Ltd. Late Model Series began its 7th season of action on the weekend with its first ever visit to Hidden Valley Motorsports Park. Twenty-one race teams, including a record 6 rookie drivers, made the trek to Southern Alberta. Heat race action saw 6 different drivers picking up wins. The story of the night was the Feature event. Since it was the first event of the season and a brand new race track, one would have expected a carnage filled race on the tight 1/4 mile track. Only 3 yellows were thrown in total.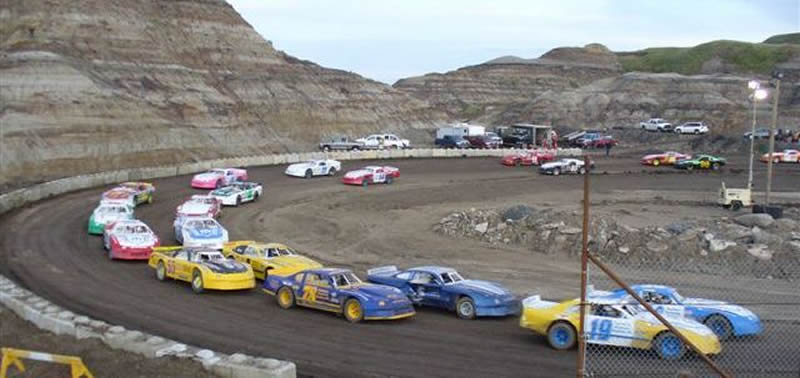 Kevin Clark (#5), last season's NPP Rookie of the Year, jumped out into an early race lead and was challenged every lap by Campbell River BC's Jason Beaulieu (#46). On lap 12, Beaulieu and Clark 'exchanged' some paint down the back straight. The Altario, Alberta driver spun and had to go to the back of the pack. "Not intentional at all," explains Beaulieu, "I'm not traveling all the way from BC (Campbell River) to take anyone out. I don't drive that way." Beaulieu was the eventual Feature winner leaving Clark fuming in the pits after the race. "A black flag should have been flown there absolutely," says a frustrated Clark who managed to salvage a 13th place finish.
Defending NPP season champion Dwight Kennedy from Edson Alberta and newcomer to the series, Kevin Wheeler out of Whitecourt, provided an incredible run to the checkered flag. Kennedy, who was running 3rd on the last lap, ended up driving onto the infield over a burm and was launched into the side of Wheeler who had just entered the final corner. Wheeler who was running 2nd struck two lapped cars which then collected Mike Tom who was running 4th. Both Kennedy and Wheeler continued towards the finish line. "We had a pretty good battle going there right to the finish line," laughs Wheeler, "it capped off what was an incredible first race of the season for me." Both Wheeler and Kennedy spun across the finish line. Kennedy at first was handed the second place finish with Wheeler finishing third. After a lengthy video review, Kennedy was later disqualified for an illegal infield pass handing Wheeler second place. "I was just trying to stay out of trouble going down the back. Cars were four wide." indicates Kennedy, "I guess race officials saw otherwise." For Tom, the season opener ended on a frustrating note. "The car was there for every race. We had a heat race win and a third. We probably could have grabbed third in the feature too." Tom ended up 16th. "We'll head to Rimbey now. I think we can carry some of the momentum we started here." Saturday nights ending had race fans in Drumheller wanting more. Unfortunately for the fans and drivers, Sunday night's race in Drumheller was washed out due to rain.