DRUMHELLER, AB. – The anticipated return of the Northern Provincial Pipelines Late Model Series to Dinosaur Downs Speedway in southern Alberta is on hold. "We unfortunately have to cancel this weekend's race event," says Drumheller Ag Society and track president Mike Hansen, "it wasn't an easy decision to make but it is the right one." Record rainfall the month of June has swollen rivers in Southern Alberta. Many have overflowed their banks. Last week, devastating flood conditions decimated Canmore, High River and parts of Calgary, Alberta. Rising river waters are now making their way through the Drumheller and Medicine Hat regions. On the weekend, close to 3,700 residents in the Drumheller area were forced to leave their homes due to flooding from the swollen Red Deer River. A state of emergency remains in effect. Rising waters did not affect Dinosaur Downs Speedway due to its location on higher ground south west of Drumheller. The track however was on the receiving end of some heavy rains.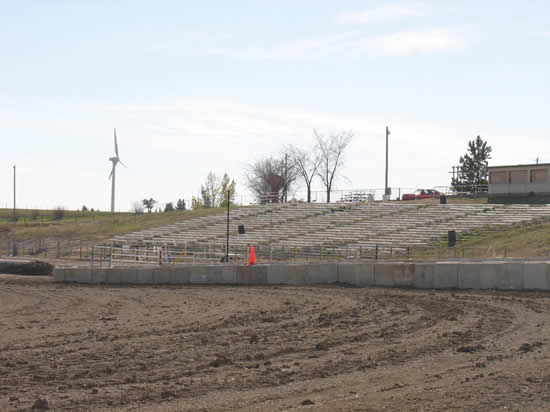 Drier and hotter weather was forecast for the Saturday and Sunday, June 29th and 30th race event. The determining factor that forced track officials to cancel the long weekend race is a lack of safety crew. "Ambulance and fire crews are currently focused on the safety and well being of Drumheller residents and will not be available for this weekend's event at Dinosaur Downs Speedway." Track officials have not yet announced a rain-out date for the cancelled race weekend. The NPP Late Model Series was the support class for the IMCA Modifieds competing at the 2013 Raptor Run on the Canada Day long weekend. This was to have been the first NPP Series race date in Drumheller, Alberta since the 2009 season.

The next scheduled race for the NPP Late Model Series is Friday and Saturday, July 19th and 20th at Edmonton's Castrol Raceway.