A FOURTH AND FIFTH KINDA WEEKEND
PENTICTON, BC – It's been two decades since Jason Frost competed at Penticton Speedway. Frost last raced at the southern British Columbia track back in 1999. He never did win a Feature event in his handful of past appearances but his August long weekend return did spark many good memories. "It's a fun track to race at," says the Victoria, BC driver, "but I really didn't recognize a lot of the place. The only thing I really recognized was the drive up to the facility." Frost took advantage of several practice sessions in order to reacquaint himself with the track. "I had to re-learn the race line a bit. The track has had twenty years of wear on it."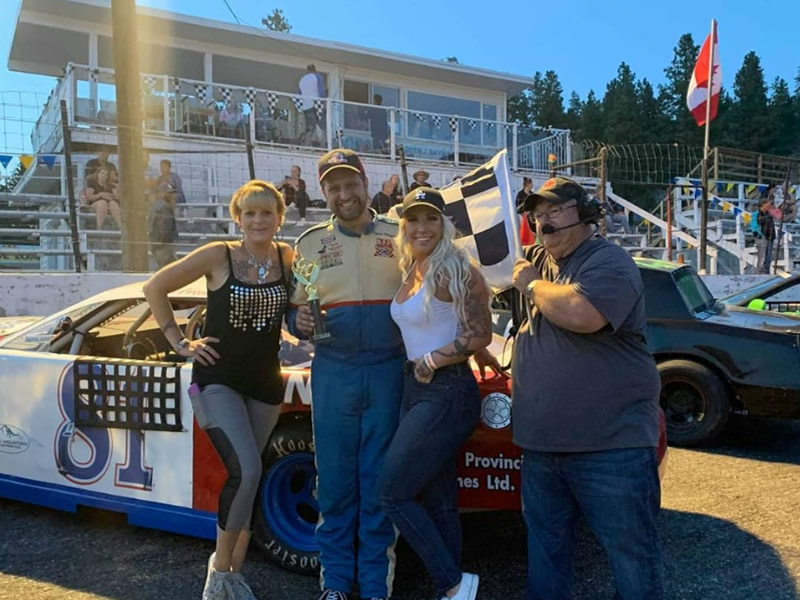 Friday night qualifying and Heat races kicked off the three-night night Gordie Mannes Memorial weekend. Opening night saw a consistent pattern develop for Frost. The Victoria, BC driver qualified fourth and then finished fourth in both Late Model Heat races. The Northern Provincial Pipelines Ltd./Saanich Braves Hockey Club #81 Dodge did grab the checkered flag in the Friday night Trophy Dash. Despite his Trophy dash win and on-track consistency Frost knew he needed to find more speed. "We got off our game plan right off the bat. We went with a set of older tires (on opening night). That was the wrong thing to do." In the Saturday night Feature Frost finished 5th. "Just couldn't find the line. We were a bit faster but not enough." Frost finally found the speed he'd been searching for on the final race day of the weekend. Frost was fastest in practice. He took those practice speeds to the Sunday night Feature. At the drop of the green Frost powered to the race lead. He was the fastest car on the track in the Feature. "We led every lap," exclaims Frost, "Chris (spotter) came on the radio and said we had a half a lap on the field and told me to slow down a bit." Frost let up on the throttle but then the worst case scenario took place. The new found speed, that was missing the first two nights, all but disappeared thanks to a transmission failure. "I was halfway down the backstretch. We were coming to the white flag lap. I coasted into the pits." Frost finished the Sunday night Feature in 4th. Home track favorite Mike Sproule won the Sunday night Feature.

RACE NOTES: Brandon Carlson, who pilots the Team NPP #81c Super Late Model at select US events was the number 1 qualifier in his own car Friday night. The Victoria, BC driver won the Saturday night Feature at Penticton Speedway and finished 2nd Sunday night.
– Daryl Crocker, who is the son-in-law to Team NPP Super Late Model driver Darrell Midgley, Qualified 9th in the Super Stock class, then won both of his Friday night Heat races. The race director of Western Speedway finished 6th in the Saturday night Super Stock Feature and 14th on Sunday night.
– Jason Beaulieu, the 2007 NPP Late Model Series Champion, was a special 'guest' driver in the Super Stock class. The Campbell River, BC driver won the Friday night Trophy Dash. He left the Saturday night Feature early and was credited with a 24th place finish. Beaulieu won Sunday nights Heat race and finished 3rd in the Feature.
TEAM NPP #81 LATE MODEL WEEKEND STATS
>Friday, August 2nd
Qualified – 4th
Trophy Dash – Win
Heat 1 – 4th
Heat 2 – 4th

>Saturday, August 3rd
Feature 1 – 5th

>Sunday, August 4th
Feature 2 – 4th