$85,000 IN POINTS FUND MONEY STILL UP FOR GRABS
EDMONTON, AB – The $100,000 Northern Provincial Pipelines Late Model Series wraps up its 7th consecutive season of race action this weekend at Castrol Raceway. The 2007 Series Champion would like to end his season the way he started it back in May. "I wouldn't mind winning the last race of the year," exclaims Jason Beaulieu, "to start and end the season with a victory would feel pretty good." Beaulieu has 5 Feature wins this season. Because of his point lead, the Campbell River BC driver clinched the Series Championship back on September 8th when a freak hailstorm pounded Castrol Raceway forcing officials to cancel the event.

"I would have rather clinched the championship on the track instead of mother nature deciding it for us." It's Beaulieu's first ever season championship in a race series run entirely on dirt/clay race tracks. As the NPP Series heads into the final race weekend of the season, there is only one remaining question. Who will be joining Beaulieu on the podium? Kevin Clark, last year's rookie of the year, currently sits third in points and can finish as high as second. An off-night from Clark though could put the Altario, Alberta driver back to as low as sixth in the standings. "I finished 12th last season in the points. It's going to be tough but to be able to get past Dwight (Kennedy) and finish second. If I can, it would be incredible." Clark sits 97 points back of the defending season champion.

"Dwight will need to have a bad night for me to have any chance at catching him." Dwight Kennedy meanwhile has won three of the last four Feature events run in Edmonton. "It's good to be back in Edmonton where we've gotten a majority of our wins this season. Road trips have been a little tough on us this year." The Edson Alberta driver can finish no worse than third in the point standings. "Back to back championships would have been nice but Jason (Beaulieu) ran a pretty good year."

For race teams currently out of the top three in the standings, an all out battle for position is expected this Saturday night: 47 points separates 4th from 6th, 54 point's separates 7th through 11th. The last race of the year will also determine what kind of payday teams will have at the year end awards banquet. One position lost in the standings this Saturday night could cost a driver up to $2,000 in year end prize money. This race event will also be televised (tape delay) on Edmonton's SHAW TV in October.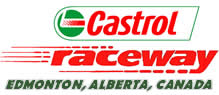 FINAL RACE OF 2007 SEASON
>Saturday, September 22nd
Racing starts at 6:00PM