INDOOR WINTER GRAND PRIX
STONY PLAIN, AB – Family and friends gathered in Stony Plain, Alberta Saturday to cheer on competitors in the 21st annual AWANA Grand Prix.  For the twelfth consecutive year, Gord Craig from Team Northern Provincial Pipelines Ltd., and the NPP Late Model Series called the action at the East Parkland Bible Church.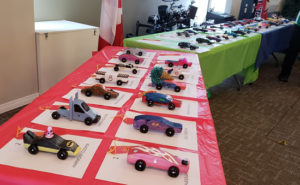 A record 56 teams registered for the 2019 event. The AWANA Grand Prix features wooden race cars with various custom designs competing on a ramp race track. The four-lane race track features digital scoring which measures speed and elapsed time. Each team competed in four qualifying heats with the top four cars from each of the three classes advancing to the Championship round.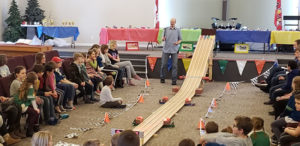 Spruce Grove's Emily Klassen was this year's winner in the Sparks Class (age 5 – 9).  Klassen finished third in 2018.   Alexis Houston was the champion in the T&T Class (ages 9 – 13).  After finishing second back in 2014, John Graff won the Leaders Class Championship.  Graff was also the only competitor to register a scale speed over 300kph during competition.  The Stony Plain, Alberta entrant hit the number twice in the Championship finals. AWANA is a non-denominational, Christian youth organization, which holds youth orientated events in more than 30,000 churches around the world.
21st ANNUAL AWANA GRAND PRIX
East Parkland Bible Church
Stony Plain, Alberta

>Saturday, February 2nd
SPARKS (age 5 – 9)
1st        #27 Emily Klassen – Spruce Grove
2nd        #12 Kaedin Houston – Carvel
3rd        # 1 Hannah Johnson – Stony Plain
T & T's (age 9 – 13)
1st        #57 Alexis Houston – Carvel
2nd        #80 Amy Klassen – Spruce Grove
3rd        #60 Malakai Houston – Carvel

LEADERS
1st        #81 John Graff – Stony Plain
2nd      #101 Caleb Johnson – Stony Plain
3rd       #84 Noah McGann – Spruce Grove