EDMONTON, AB. – Northern Provincial Pipelines Late Model Series officials have cancelled this weekends scheduled event at Castrol Raceway. "There are only five teams that indicated they would attend this race in Edmonton. Eleven drivers said they aren't coming out for a variety of reasons." NPP Late Model Series announcer and media relations director Gord Craig says it's been a difficult season. "There was a major assumption that everyone who competed last year was going to be racing the full season this year. Never assume anything." The lower car count this season has been blamed on everything from the shortage/ban of leaded race fuel in the spring, to driver burnout, to drivers and crew being extremely busy at work. "I thought that once we got through the month of May (race fuel shortage) we would be back to normal."
Some of the top competitors in the NPP Series have not turned a wheel at Castrol Raceway this season including two-time NPP Series champion Dwight Kennedy and the winningest driver the past two seasons (8 Feature victories), Jason Beaulieu of Campbell River, BC. "Both Kennedy and Beaulieu have told me they've been too busy at work to even think about racing." Beaulieu however has competed in one event this year. "He raced his Modified down in Elma, Washington back in May. Jason made the trip worth it because he won." Beaulieu is the manager and co-owner of Pacific Cachalot, a tugboat company in Campbell River, British Columbia. Kennedy is the owner of Northern Provincial Pipelines Ltd. in Edson, Alberta. "A majority of competitors in the NPP Late Model Series are business owners," adds Craig, "Travis Day for example owns Trappers Auto Parts and Towing in Whitecourt. He can't race this weekend (in Edmonton) because he is short one tow truck driver. Guess who has to fill in? Running your business comes first." Day has run just one event this season and currently sits 7th in the NPP Series Championship points chase.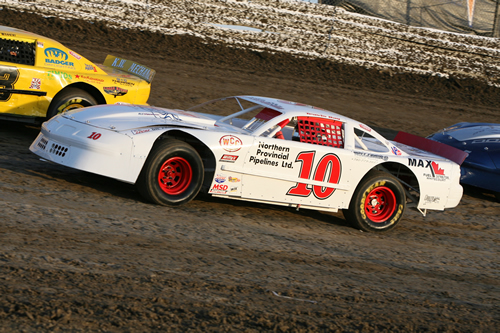 The Northern Provincial Pipelines Late Model Series next event is more than a month away (August 20th/21st). Many are hoping that there will be a full field of race cars. "I think we are going to be fine for this race," adds Craig, "it's the Oilmen's. It's always been the highlight of the season." For several NPP competitors, who haven't raced this season, a perfect Oilmen's attendance record is in jeopardy. The Oilmen's event was first held in 1994 at Yellowhead Speedway in Hinton, Alberta. Edmonton's Castrol Raceway has been home to the Oilmen's for ten consecutive seasons.