FROSTY 15TH AND ZERBIN SWEEP
VICTORIA, BC – For the first time since 2018, Team NPP was competing in two different classes at one track.  Jason Frost competed in the Reg Midgley Canada 200 Late Model race while Lane Zerbin was making his pavement debut in his Team NPP Modified.  Heavy rains Saturday unfortunately wiped out competition for all competitors.  Track officials announced the Canada 200 would turn into a one-day show for Late Model drivers.  The race weekend for all other classes was Sunday and Holiday Monday.  After a limited practice session Sunday, Frost qualified the Northern Provincial Pipelines/Westshore Burger #81 Dodge in 6th.  For the first 20 laps of Sunday nights Canada 200 Frost ran as high as second.  "It was a bit of a gamble on the setup", admits Frost, "the first 100 laps we definitely missed it.  We went backwards."  By lap 100 Frost was running 10th.  Frost was happy for the mandatory pit stop at the halfway point.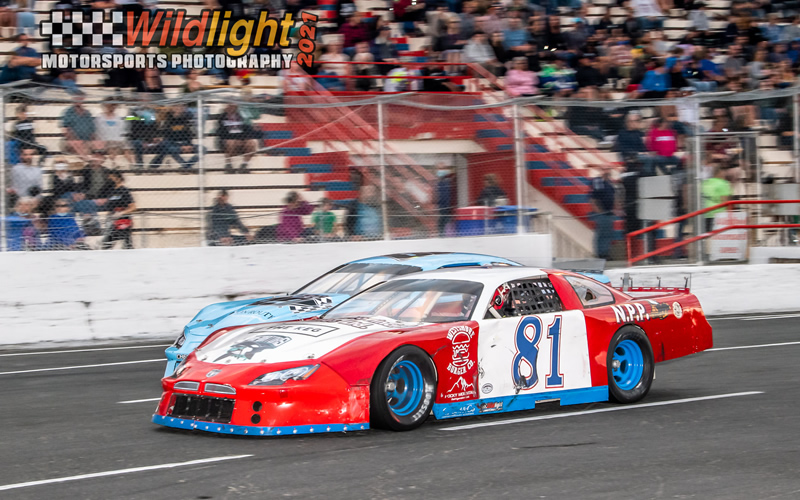 "On the second 100 we'd made some big, big changes.  We swung for the fence.  The car was really good."  Frost made on-track gains with some hard fought passes and also by narrowly missing several multi-car crashes.  "There was a lot of stuff that happened right in front of us.  Luckily there was enough room we could see it and get out of the way."  On lap 127 Frost found himself back in the top-5 for the first-time since lap 59.  On lap 133 Frost moved up to 4th getting past Wes Mader.  Both Mader and Frost exchanged 4th and 5th several times over the next 30 laps.
With just 36 laps remaining Frosts luck ran out avoiding incidents.  Frost climbed the back end of Spencer Carlson's car.  "We were restarting in fifth. We touched wheels and I went up."  Frosts car went completely airborne landing hard on the racing surface.  "The right front brake line got torn off.  The right front shock got banged up."  Frost retired a few short laps later and was credited with a 15th place finish in the Canada 200.  Rory Smith drove on to victory, Brandon Carlson finished second.  Korbin Thomas was third. "I think we had a real good shot at catching third and fourth (if we didn't crash)," says Frost, "I don't know if we had enough muscle to get to the 14 car (Carlson).  I don't think there was anyone was catching 16 (Smith). He's just in a different dimension."  It's a quick turnaround for Frost as he heads to Saratoga Speedway for a two-day show on Friday and Saturday, September 10th/11th.  The track just 20 minutes north of Courtney, British Columbia is holding its inaugural Saratoga 150 weekend.
Team NPP's Lane Zerbin hadn't turned a wheel in his dirt Modified since September 2019 (Yakima, Washington).  Not wanting another calendar year to pass him by (2020 & 2021), Zerbin decided to give pavement racing a try.  With only a few hours of practice under his belt, Lane Zerbin made his Modified debut at Westshore Motorsports Park on the September long weekend.  What a debut weekend it was!  Zerbin qualified the Northern Provincial Pipelines/Alien Race Cars #81 Modified in the number 2 spot both Sunday and Holiday Monday.  He won his Heat races both days.  Zerbin also won the Sunday and Monday Feature events.  "The September long weekend has always been good to me," exclaims Zerbin, "it turned out well to pick up a couple of wins here."  Zerbin won the Modified Features (on dirt) at Grays Harbor Raceway in Elma, Washington on the 2017 and 2018 September long weekends.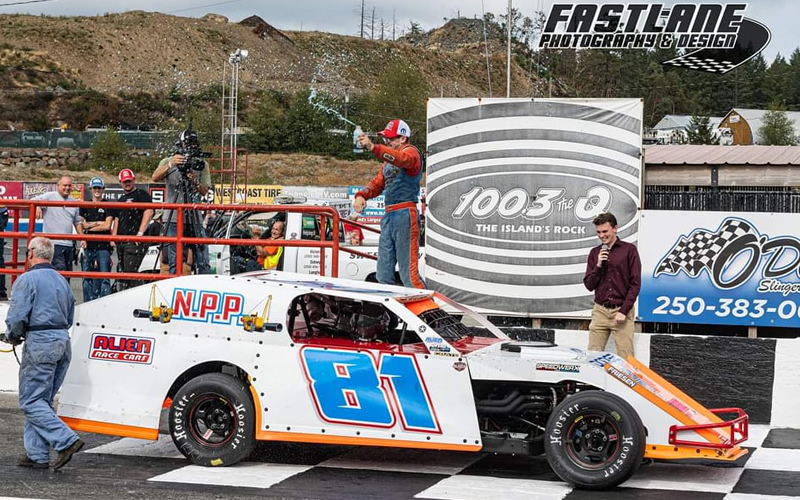 "On dirt everything is coming into your face instantly.  Cars are moving around.  Guys are trying to find their (racing) lines.  I'm from the dirt side where you gotta make something happen or you run outta time."  In both 30 lap Features, Zerbin secured the race lead by the halfway point.  A majority of Zerbins passes came using the outside line.  Monday's race had no cautions.  "We went green to checkered for the 30 lap main which was pretty fun."  With his successful pavement debut, Zerbin is still looking forward to a return to an American dirt track.  "We're waiting for the border to open."

SIDENOTE: With Brandon Carlson riding shotgun, Lane Zerbin made some laps at Westshore Motorsports Park in his work van on Friday.  Carlson was pointing out some potential on-track driving and passing lines to Zerbin.  Sunday was Zerbins 50th official start in a Modified.  Carlson, finished 2nd in the Canada 200.