DAYTONA BEACH, FL – DJ Kennington has the weight of an entire nation on his shoulders this weekend at Daytona International Speedway. The St. Thomas, Ontario driver is looking to become the first Canadian to race in the Daytona 500 since 1988. "Everybody has put in a huge effort so far to get to this point," exclaims the two-time NASCAR Canada Pinty's Series Champion, "I'm just taking it all in right now." Dawsonville, Georgia's Chase Elliot, son of 1988 NASCAR Champion Bill Elliot, claimed pole position during qualifying this past weekend. "There are 42 drivers here in Daytona trying to qualify," adds Kennington, "I'm extremely fortunate to be one of them." With Dale Earnhardt Jr. qualifying second, the Thursday night Duel races will determine the final 38 starting spots for this Sunday's Great American Race. Kennington has been happy with his performance so far in the Lordco Auto Parts/Castrol #96 Toyota. "We're up against teams with multi-million dollar budgets. To be 38th fastest in a brand new car from Gaunt Brothers Racing says a lot. We're driving against the best in the world."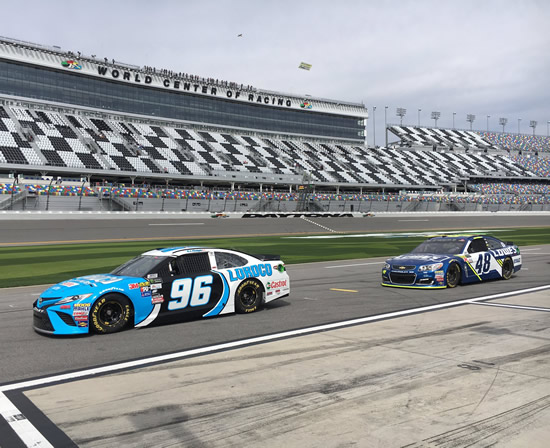 This is Kennington's second start in the Monster Energy NASCAR Cup Series. With major sponsorship from Alberta companies Northern Provincial Pipelines Ltd. and Clark Construction, Kennington finished 35th in his Cup Series debut at Phoenix Raceway last November. "Definitely looking forward to Thursday morning," says Kennington, "we'll be on the track for some practice sessions in preparation for the Thursday night duals." Kennington is scheduled to compete in the second Can-Am Duel race (starts 19th / 60laps). "We're one step closer to running the Daytona 500. A good finish (in the Duel) and we're in." Kennington needs to finish ahead of Maryland's Timmy Hill (starts 21st) to punch his ticket to Sundays big race and become just the 8th Canadian to start a Daytona 500 race. Trevor Boys was the last Canadian to race in the Daytona 500. The Calgary, Alberta driver finished 19th on February 14th, 1988. There wasn't much press coverage for Boys on his top 20 finish. The Canadian media were a little more focused on the 1988 Winter Olympics which was being held in Calgary during this time.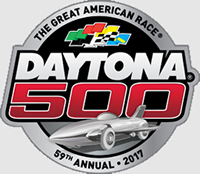 DJ'S DAYTONA SPEEDWEEK
(all times Eastern)
>THURSDAY, February 23rd
Noon – Practice (Cancelled due to rain)
Start of Duel races will most likely be delayed
7:00pm – 60 lap/150 mile Can-Am Duel 1**
9:00pm – 60 lap/150 mile Can-Am Duel 2**
** finish order from both Duels sets the 3rd through 40th starting positions.

>FRIDAY, February 24th
1:00pm – Practice
3:00pm – Practice

>SATURDAY, February 25th
12:30pm – Final Practice

>SUNDAY, February 26th
2:00pm – 59th annual DAYTONA 500
UPDATE: – St. Thomas, Ontario's DJ Kennington finished 14th in the Can-Am Duel #2 Thursday night and will start 28th in the 59th running of the Daytona 500 on Sunday. Kennington becomes just the 8th Canadian to qualify for the Daytona 500. The last Canadian to race in the Daytona 500 was Calgary, Alberta's Trevor Boys in 1988.
UPDATE: – With 72 laps to go DJ Kennington got caught up in a multi-car crash at Daytona International Speedway. Kennington was running 22nd when Jimmy Johnson (running 3rd) was tagged from behind causing a chain reaction crash that collected/damaged 16 cars. Kennington slammed the back end of Johnsons spinning race car. The first Canadian to run the Daytona 500 since 1988 would be credited with a 36th place finish. The race won by Kurt Busch.