EDMONTON, AB – The Northern Provincial Pipelines Late Model Series kicks off its 9th incredible season of race action in Lethbridge, Alberta this May long weekend (Saturday, Sunday May 16 & 17). The Lucas Oil Slick Mist 2009 Season Opener at Bridge County Raceway marks the third year in a row that the first event of a NPP Championship season takes place in southern Alberta. With the current economic decline in Canada, several NPP Series race teams have had to scale back their racing operations for the upcoming season. Others will be racing even harder for the coveted NPP Series Championship. Leading up to the season opener, the official website of the NPP Late Model Series will be previewing the starting 'lineup' for the 2009 race season.
#10 TRAVIS DAY – Whitecourt, Alberta
"We are planning on running maybe about half the race season right now," says Travis Day, "if you would have asked me back in February, I probably would have told you the car was going to be parked for the entire season." Day's main focus right now is running Trapper's Auto in Whitecourt. "Committing to running a full season is a little difficult right now. We have to concentrate on the business side of things rather than racing but I am seeing some positive signs regarding the economy." The Whitecourt, Alberta driver had a bit of a surprise at the end of last season which didn't help matters. "We knew we twisted up our frame (crash in Washington) but when the motor gave us troubles the last race in Edmonton we knew the off season wasn't going to be a lot of fun."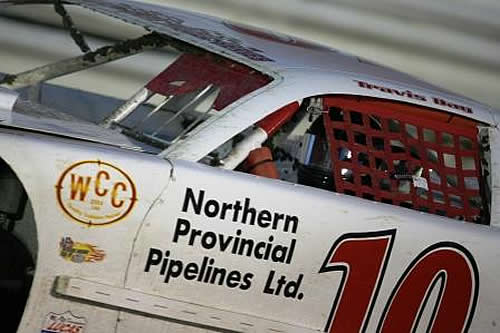 The Trappers Auto/RL5 Enterprises #10 Chevrolet is currently back together and straight but the car is still minus a motor. "We won't make the season opener in Lethbridge but if all goes well (motor) we'll be at the first Edmonton race." Day ran as high as 9th in the points chase last season. In his first full season as a NPP Series competitor, Day finished the 2008 season 11th in the standings.
# 8 PAT FINES – Whitecourt, Alberta
Northern Provincial Pipelines Late Model Series driver Pat Fines has quite the appetite for toys that go fast. During the snowy months of winter and on warmer spring days, Fines often finds himself snowmobiling in the mountains. "Just got back from a spring snowmobiling trip a few weeks ago," says Fines, "you have to keep yourself entertained somehow when you're not racing."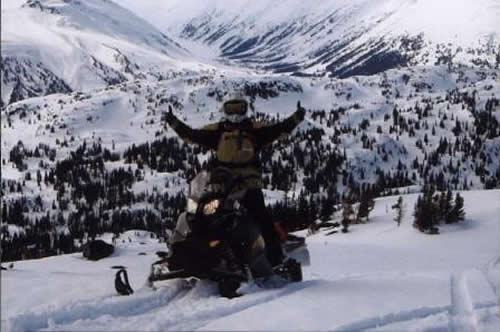 Fines thrill for speed will be changing focus when he gets behind the wheel of his #8 Orion Environmental Services sponsored Dodge this season. "This is a blast," adds Fines, "it's a great group of guys to go racing with on weekends. We're going for a top 10 in points this season but we need to be consistent." On weekends that Fines is not behind the wheel of his racecar, you'll find him cruising down the open road on his custom Harley Davidson motorcycle.
# 7 SHAWN KENNEDY – Edson, Alberta
The 2008 season was not too kind to Shawn Kennedy. "We've certainly had better years," says the Edson, Alberta driver, "it was a month into the season before we even cracked the top-10 in a Feature race." Kennedy started off the month of June with a third place finish in Edmonton then an eighth place finish a week later (also in Edmonton).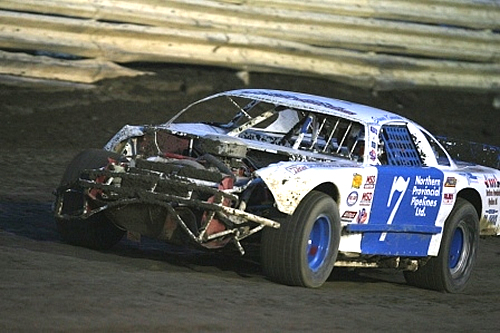 Hard crashes in Rimbey, Lethbridge and Edmonton hampered efforts for a top 10 finish in the point standings. "Very frustrating that's for sure," adds Kennedy, "we need to put last year behind us. The only way to do that is a strong start to the season and try to carry the momentum to the last race of the year." Kennedy finished 14th in the point standings in 2008.
# 5 KEVIN CLARK – Altario, Alberta
The 2006 NPP Series Rookie of the Year is back for his 4th consecutive race season. Kevin Clark finished 5th in points in 2008. Clark was one of nine drivers to win a NPP Feature event in an extremely competitive campaign. "We had a couple tough crashes last year that cost us some points. We probably could have finished fourth or third." Clark, the owner of Clark Construction is also lending a hand in the finishing touches at Alberta's newest Oval track. Dinosaur Downs Raceway in Drumheller will host the NPP Late Model Series twice in 2009.

# 4 CORRY MacDOUGALL – Whitecourt, Alberta
Corry MacDougall's first season in a NPP Late Model Series race car was most likely his last. MacDougall's name was on the # 4 Dodge but he was behind the wheel only a few times last season to due work commitments at C-MAC in Whitecourt.