LEBANON, OR – After registering a frustrating DNF (did not finish) in both his Heat race and Feature event Saturday night at Willamette Speedway, Lane Zerbin came back strong Sunday earning his first ever Feature win in an open wheel IMCA Modified. "It was a quick learning curve for sure," admits Zerbin who'd never raced at this facility before, "it was just two weeks ago that my dad (Ted) and I decided to come here." More than 25 IMCA Modifieds were on the property for the two-day show. The 20-year old from Victoria, British Columbia qualified 2nd for the Sunday night event in the Northern Provincial Pipelines Ltd./Alien Chassis #81. Zerbin finished second in his Heat race. In the 30 lap Feature, Zerbin held off several hard charging drivers including home track favorite Kyle Yeack and NASCAR Camping World Truck Series regular Matt Crafton to take the win.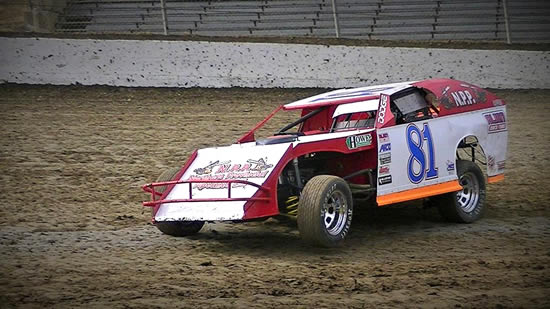 "Hit my marks and not overdrive the track was all I was thinking," exclaims Zerbin, "the track was dry slick (Sunday night). It was just like asphalt which I'm used to." Zerbin, who made his IMCA Modified debut in 2015, is already focused on the next event. "We're now heading to Cottage Grove, Oregon for a Monday night race (July 4). It's another first-time track for me again." Cottage Grove Speedway wraps up their Independence Day Weekend with their third night of racing in four nights. Sprint Cars and IMCA Modifieds headline the race action in Oregon on Monday night July 4th with racing starting at 6:30PM.

Northern Provincial Pipelines Ltd. has been a proud sponsor and supporter of motorsports for over two decades and is title sponsor of the NPP Late Model Series based in Alberta.

>Sunday, July 3, 2016
MODIFIED FEATURE (TOP 10)
1. #81 Lane Zerbin – Victoria, British Columbia (MOV: 0.861seconds)
2. #47 Kyle Yeack – Lebanon, Oregon
3. # 5 Collen Winebarger – Corbett, Oregon
4. # 1 Sean Mayea – Bend, Oregon
5. #36 John Campos – Keizer, Oregon
6. #91 Matt Crafton – Mooresville, North Carolina
7. #19 Brad Martin – Warren, Oregon
8. #16 Jerry Schram – Vancouver, Washington
9. #54 Nick Trenchard – Klamath Falls, Oregon
10.#25 Craig Cassel – Albany, Oregon
COTTAGE GROVE, OR (July 4) – There were 27 teams on the property at Cottage Grove Speedway on Monday night. Victoria, BC's Lane Zerbin finished 4th in his Heat race. His finish transferred him directly to the 'A' Feature event. Zerbin ran as high as 8th in the hard fought Monday night Feature and finished 11th.