WINNER WINNER IN WASHINGTON
ELMA, WA. – A limited race season would hamper many drivers on-track performance but not Canada's Lane Zerbin. In only his 5th start of 2017, Zerbin drove the Northern Provincial Pipelines Ltd./Alien Chassis Modified to a dominating win at Grays Harbor Raceway in Elma, Washington Saturday night. "I was focused the entire race," says the Victoria, British Columbia driver, "it was a little rough going at times but we made it through." Of the 22 Modifieds that were racing at GHR, Zerbin was third quickest in hot laps. Despite finishing third in his heat race, Zerbin's lap times were the fastest on the property. "The car was set up. It really felt good. We started 7th in the Feature so the rest was up to me." At the drop of the green for the 25 Lap Feature, Zerbin clearly had one goal in mind and that was to get to the front.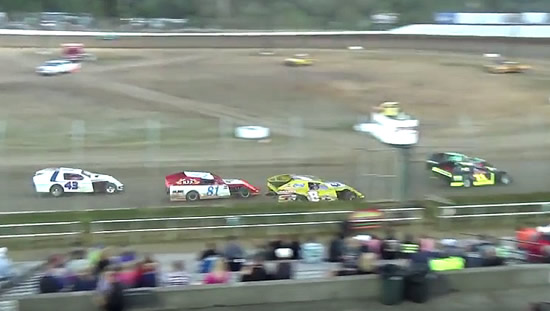 By Lap 3 Zerbin moved himself up to second behind race leader Tyson Blood of Olympia, Washington. By Lap 5, four cars began pulling away from the rest of the field. Blood, Zerbin, Zach Simpson (Aberdeen, Washington) and Doug Davenport (Vernonia, Oregon). Caution flag came out on Lap 8 for a single car spin near the back of the pack. At the exact same time of this caution flag, Zerbin and race leader Tyson Blood came together in turn four. Track officials gave Zerbin the race lead for the restart. On the restart, Zerbin was briefly challenged for the lead by Simpson. Zerbin however powered away from the field and built up a commanding five car length lead approaching the halfway point of the Feature. Yellow flag would fly for a slowing car down the front straight. This caution bunched up the field once again for the restart. "I was driving my own line this race and it was working but those cautions were killing me. I knew I'd built up a pretty good lead during the green flag runs." The final caution flag of the Feature waved with 10 laps to go for another slow moving car.
As the green flag flew and the finish line in sight, Zerbin distanced himself from the field as Davenport and Tom Sweatman (Cosmopolis, Washington) battled hard for second. Zerbin drove on to grab his first Feature win of 2017. Margin of victory for Zerbin was just over one and half seconds as the checkered flag flew. Next event for Lane Zerbin and the Team NPP #81 Modified is back at Grays Harbor Raceway on Friday and Saturday night July 28th and 29th. More than 50 Modified teams will compete at the 18th annual Shipwreck Beads Modified Nationals.

> SATURDAY, JULY 29th
MODIFIED FEATURE
1. #81 Lane Zerbin – Victoria, British Columbia
2. #11 Tom Sweatman – Cosmopolis, Washington
3. # 8 Doug Davenport – Veronia, Oregon
4. #26 Scott Miller – Shelton, Washington
5. #14 Kyler Moore – Seabeck, Washington
6. #12 Zack Simpson – Aberdeen, Washington
7. #28 Brian Harding – Oakville, Washington
8. # 6 Don Jenner – Vancouver, Washington
9. #43 Shane Kerrigan – Aberdeen, Washington
10.#88 John Gamell – Brush Prairie, Washington
11.#10 Clark Tenney – Scappose, Oregon
12.#47 Austin Kerrigan – Aberdeen, Washington
13.#34 Gene Miller – Olympia, Washington
14.#86 Dave Howard – Olympia, Washington
15.#8 Steve Bullpit – Port Orchard, Washington
16.#47 Steve Signal – Olympia, Washington
17.#97 Tyson Blood – Olympia, Washington
18.#17 Brian Izzy – Washington
19.#46 Jeremy Miller – Montesano, Washington