RIMBEY, AB – Central Alberta Raceway's held their very first oval event on July 30, 2005.  Seventeen cars from the NPP Late Model Series took the green flag in the Saturday night Feature.  Edson, Alberta's Dwight Kennedy won the Feature event.  Over the next 12-years, the NPP Series would schedule more than two dozen races at the Rimbey, Alberta facility.
Thanks to several downturns in Alberta's economy, there was a decline in participating race teams forcing NPP Late Model Series officials to make a difficult decision.  The last official NPP Series event was run on July 21, 2018.  Many NPP Late Model race cars were sold.  Some were even parted out.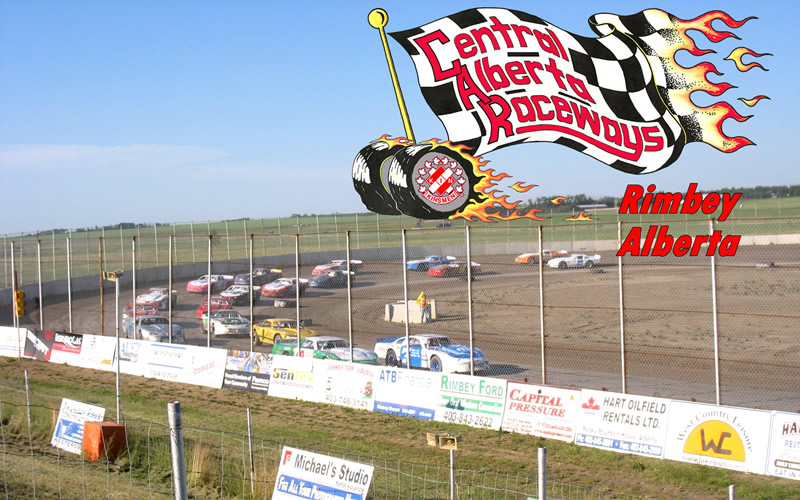 This past weekend, Central Alberta Raceways held their biggest oval event of the 2023 season (Duel in the Dirt).  A few sharp-eyed spectators were quick to notice that two former NPP Late Model Series race cars were competing in the Super Stock class.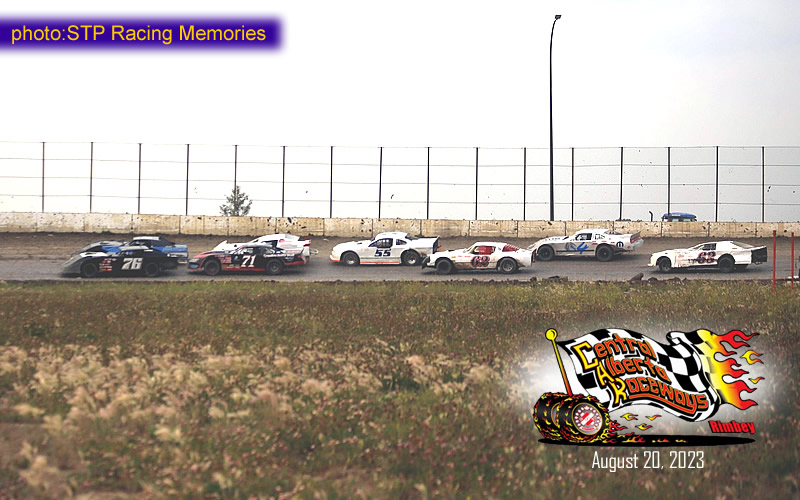 Josh Shuflada was driving the RCE sponsored #4 Dodge on Saturday and Sunday. This was his official on-track debut. He was pleased with the results. "I avoided a lot of wrecks and ended up placing 5th overall for the weekend." Despite his rookie status, the Edson, Alberta driver looked quite at home behind the wheel of his race car. "I grew up with Shawn (Kennedy) in school and was friends with him. I pitted for him a couple years." Shawn Kennedy is the son of NPP Late Model Series founder Dwight Kennedy. The car Shuflada now owns was formerly campaigned by Crystal Kennedy, Shawn's sister. "They let me run the car as is (high horsepower engine/racing fuel)," admits the Edson, Alberta driver, "they started me at the back of the pack every race."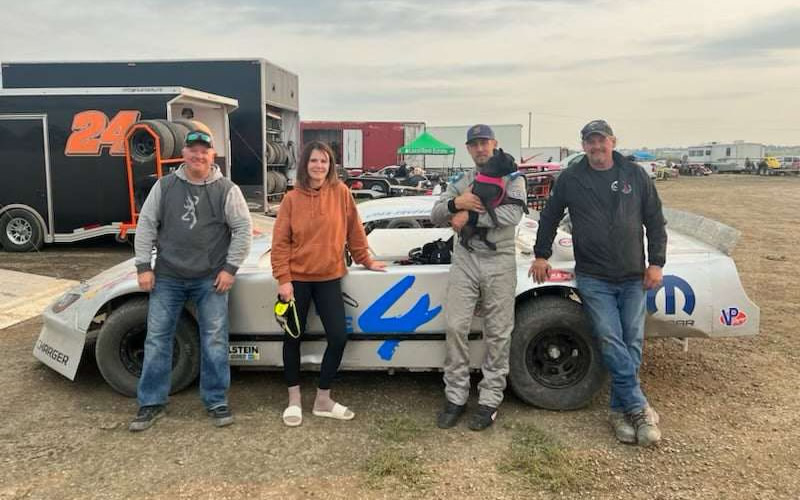 Dale Stonehouse – Alta Shuflada(wife) –  Josh Shuflada – Terry Shuflada(father) and IZZY
Shuflada was not the only driver behind the wheel of a NPP Late Model at the weekend event.  Billy Kerns from Powell, British Columbia made the long haul to Rimbey, Alberta for the Duel in the Dirt weekend.  His Creative Rusty Stuff /Lordco Auto Parks #71 was formerly campaigned by 2-time NPP Series Champion Dwight Kennedy. Kerns currently sits 5th in points at his 'home' track of Merritt Speedway.  Although still closely resembling a NPP Late Model, Kerns race car runs the Super Stock rule package which includes a lower horsepower engine that runs on pump gas.  Kerns was Sunday's Feature event winner in Rimbey.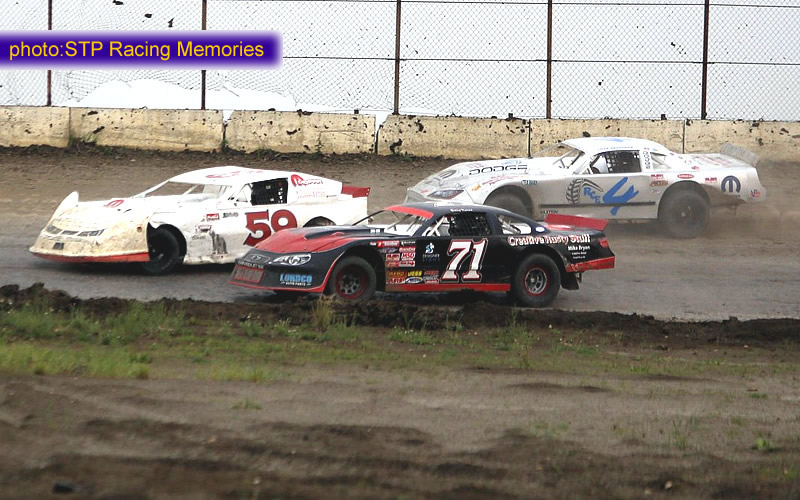 The appearance of two former NPP Late Model Series race cars in Rimbey did raise some inquisitive questions from fellow competitors.  "Lots of people were looking at the cars cause they really liked them," admits Shuflada, "I've heard rumors of the (NPP) Series possibly returning.  We'll see what happens."  The NPP Late Model Series operated from 2001 to 2018 and competed at 11 different race tracks.  Shuflada expects to return to Central Alberta Raceways on September 9th and 10th as the track is hosting an invitational event.  He'll once again show up at the track with his NPP Late Model and have some fun.  Maybe a few more former NPP Late Model cars will be dusted off and join him.